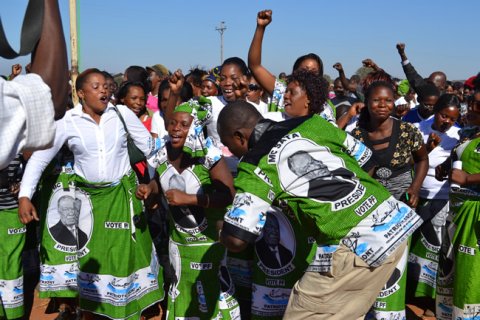 The Zambia Police has blocked Patriotic Front-PF- members and their sympathisers from marching to the Chinese embassy tomorrow to deliver a solidarity message over the ambassador's decision to shun a luncheon hosted by UPND leader Hakainde Hichilema.
The Police have however, only allowed 50 PF cadres to deliver their solidarity message at the Chinese embassy without matching on the streets.
Inspector General of Police Kakoma Kanganja confirmed this in an interview with ZNBC news in Lusaka today.
Mr. Kanganja said the PF has obliged to the Police guidance in line with the Provisions of the Public Order Act.
But PF Deputy Spokesperson Frank Bwalya said the ruling party is unhappy with the police action.
Mr. Bwalya however, said the PF will adhere to the police instruction to avoid getting in conflict with the law.
He said the PF seeks to deliver a solidarity message to the Chinese Ambassador and African diplomats for staying away from Mr Hichilema's luncheon which he termed as political.
Meanwhile Lusaka Province Police Commissioner Nelson Phiri has vowed to stop all forms of violence perpetrated by political cadres in the region.
Mr. Phiri says violent political cadres will not escape the police drag net.
He says erring cadres will be prosecuted regardless of their political affiliations.
And Mr. Phiri says the 21 UPND cadres who were arrested at a gym will be prosecuted.
He told ZNBC news in a telephone interview that the UPND cadres will appear in court once police finalise the interrogation and recording of statements.
Mr. Phiri said all political stakeholders must denounce a growing culture of political violence.
ZNBC