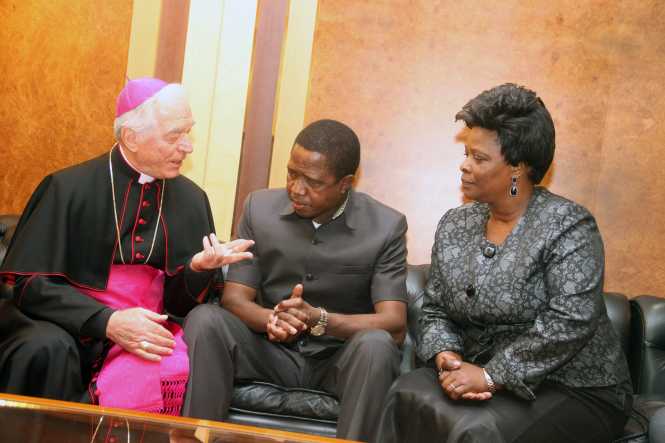 PRESIDENT Lungu arrived here yesterday as a special guest of Pope Francis and is today expected to hold private talks with the head of the Catholic Church at the Vatican City.
The President has a busy schedule today as he will also hold private talks with the Pope's Secretary of State Cardinal Pietro Parolin.
Later in the afternoon, he will meet executive directors of two Rome-Based Agencies (RBAs) of the United Nations namely the Food and Agriculture Organisation (FAO) and the International Fund for Agricultural Development (IFAD) Jose Graziano da Silva and Kanyo Nwanze, respectively.
The plane carrying the President and his entourage touched down at Fiumicino Airport in the Italian capital at 12:45 hours after which he was driven straight to the Hotel Westin Excelsior.
He is accompanied by First Lady Esther, his special assistant for press and public relations Amos Chanda and special assistant for political affairs Kaizer Zulu.
The others in the delegation are special assistant for economic affairs Mwiinga Hibeene and Patriotic Front deputy secretary general Mumbi Phiri.
Minister of Foreign Affairs Harry Kalaba, Vatican Apostolic Nuncio Joseph Casalini, Dean of the diplomatic corps in Italy Mamadou Decamo Camara, who is also Democratic Republic of Congo Ambassador to Italy, received the President.
Zambia's High Commissioner to the United Kingdom (UK) Muyeba Chikonde, who also oversees Vatican affairs, and Zambia's Ambassador to Italy Getrude Mwape, who is also in charge of UN agencies, were also at the airport to receive the President.
President Lungu arrived at Hotel Westin Excelsior around 13:30 hours.
In the evening, the President is expected to interact with Zambians living in Italy.
He leaves for Paris, France, on Saturday after touring the St Peter's Basilica.
And KELVIN CHONGO reports that President Lungu is thrilled to be invited to the Vatican City by Pope Francis, whom he described as a moral authority.
President Lungu said it is a good feeling not only for him personally to be invited by Pope Francis but also for the entire country.
"This is because the Pope is the moral authority who is highly positioned, so if he picks on you, you have to thank God for it," President Lungu said.
The President was speaking at Kenneth Kaunda International Airport (KKIA) on Wednesday night shortly before departure to Rome ahead of his scheduled meeting with Pope Francis.
"If we are to listen to our leaders like the Pope, we should not be closing the universities like the manner that has happened now," President Lungu said in reference to the closure of the University of Zambia (UNZA) and the Copperbelt University (CBU) in the wake of students' riots.
"I told students to remain calm and that we should discuss but because [of] some forces of evil in their minds, they thought the best is to become violent and disregard other people," President Lungu said.
He said there is more to listening from people who are on a higher level of morality like Pope Francis and others and that UNZA and CBU would not have been closed if the students had listened.
And President Lungu says the indefinite closure of UNZA and CBU is timely.
The Head of State said the closure of the two institutions of higher learning is a lesson for the students because he had forewarned them against bad behaviour.
"I had earlier warned students at the two higher learning institutions not to engage in violent acts but they continued with their bad behaviour," President Lungu said.
Minister of Higher Education Michael Kaingu on Wednesday announced the indefinite closure of the UNZA Great East Road campus and CBU.
Dr Kaingu said the disturbances at CBU and UNZA have caused a deterioration of the academic environment.
He said an imminent danger to life and property now exists and that the act to close the two universities is to prevent further damage to property and possible loss of life.
A check by Daily Mail at UNZA slightly after midnight found police officers assisting students, leave the university premises.
Zambia Daily Mail