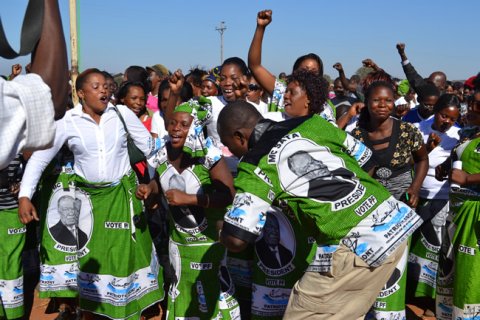 DEFECTIONS HAVE ROCKED THE RULING PATRIOTIC FRONT-PF IN KASAMA'S MULILANSOLO WARD.
This follows Thursday's resignation of twelve PF officials to join opposition United Party for National Development-UPND at UPND-vice president for administration, Geoffrey Mwamba's Kasama residence.
The named defectors charged that the ruling PF has failed to inspire the aspirations of the people of Kasama and Northern Province at large.
And receiving the defectors, UPND-Northern Province chairperson, Nathan ILunga told the gathering that the resignation of the twelve officials to join his party is a sign that the ruling PF is losing steam.
…In a related development, PF-Northern Province Treasurer, Webby Chipili has resigned from the governing party and joined the newly launched, Democratic Front-DF led by former Commerce Deputy Minister, Mills Sampa.
Mr. Chipili made the announcement at a Democratic Front press conference held in Lusaka last week which was broadcast live on Radio Mano.
Mr. Chipili becomes the second PF official in Northern Province to join Democratic Front after Wednesday's resignation of Zebron Kashiba who was PF-Kasama District Political Secretary.