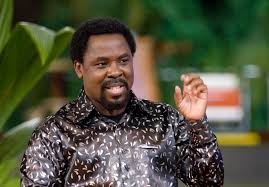 On Sunday 10th January 2016, Nigerian Prophet T.B. Joshua warned of an incident that would transpire 'this coming Thursday' in the continent of Asia.
In a video released to YouTube, the Nigerian cleric is seen holding a piece of paper allegedly containing 'prophetic' messages for the world which he said would be released.
"The one that is very, very imminent – that is, very immediate I need to let you know about is this coming Thursday," he said in a service broadcast live on Christian television network Emmanuel TV.
It was his second time appearing in the pulpit since a prolonged eight month absence.
"I was tracing to trace it. Is it part of Europe or an Asian country," Joshua went on to add, reiterating the need for viewers to pray on Thursday 14th and Friday 15th January 2016.
On Thursday 14th January 2016 a series of explosions rocked the Indonesian capital, Jakarta, with gun battles on the streets leading to the deaths of seven people and injuries of many more.
The blasts were focused around Thamrin Street, a major shopping and business district close to foreign embassies and the United Nations offices.
ISIS officially took responsibility for the attack in a detailed online statement, Indonesian police adding they suspected a local group allied to ISIS was to blame.
It would be recalled that several other predictions by Joshua for 2016 have seen initial signs of accuracy.
These include the alleged North Korean hydrogen bomb test, the increasing pressure on Nigerian President Buhari to devalue Nigeria's currency and the ongoing farming crisis reverberating throughout Southern Africa due to insufficient rainfall.
"We pray that God would strengthen all the friends and family members of the victims of the tragic terror attacks that hit the Indonesian capital of Jakarta," the YouTube video concludes.
Joshua's television channel Emmanuel TV debuted on DSTV late 2015 and boasts nearly 300,000 subscribers on YouTube.