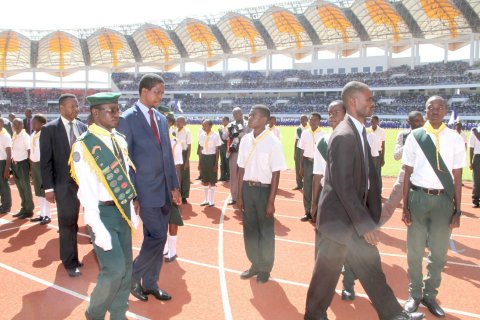 THE Football Association of Zambia (FAZ) owes National Heroes Stadium management K815,000 in unpaid debts for hosting international games.
Sources at the stadium told the Sports Mail in Lusaka yesterday that FAZ has for some time not settled bills for using the stadium.
Among the international games FAZ has hosted at National Heroes Stadium are the 2015 Congo-Brazzaville All-Africa Games qualifier between Zambia and Nigeria and international friendly matches against Sudan and Gabon.
And FAZ general secretary George Kasengele admitted the national soccer governing body owes both National Heroes and Ndola's Levy Mwanawasa stadiums management.
Kasengele, however, could not disclose the amount owed to Levy Mwanawasa Stadium.
He said the association is devising a plan to liquidate the debts.
"We want to come to a common understanding on how best we can sort out the bill," Kasengele said.
He said FAZ is charged K250,000 per game and that the association does not make profits from the two national stadiums.
Kasengele said since hosting Ghana in the 2014 Brazil World Cup qualifier, Zambia has not hosted a high-profile team that could earn the association a 'fortune'.
Zambia beat Ghana 1-0 courtesy of a Christopher Katongo goal.
"We cannot afford the high charges for the use of the two stadiums that's why we need to come to a common understanding," Kasengele said.
He said FAZ may be forced to use Chililabombwe's Konkola, Arthur Davis in Kitwe and Chingola's Nchanga stadiums to host international games if a common understanding with the two managements is not reached.
"We may be forced to go back to these stadiums owned by our affiliates but we do it for the people. That is why the gate charges are low," Kasengele said.