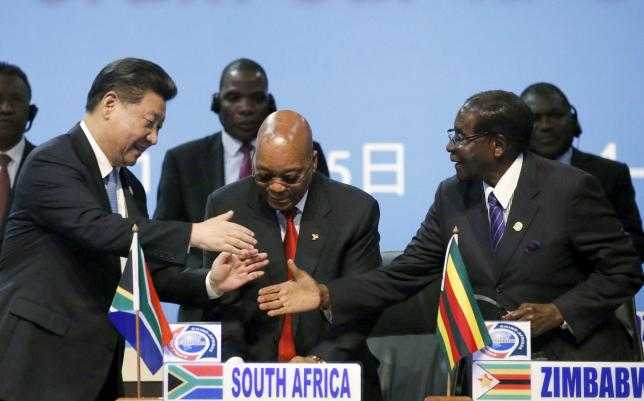 President Mugabe and China's President Xi Jinping had an emotional farewell at the end of the Summit of the Forum on China Africa Co-operation in Johannesburg, South Africa yesterday.
After bidding other African Heads of State goodbye, President Xi requested a special moment with President Mugabe.
And then the two leaders spoke, holding hands in solidarity, for close to 10 minutes.
Foreign Affairs Minister Simbarashe Mumbengegwi, who witnessed the farewell, said, "It was such an emotional moment when President Xi moved from where he was seated and requested to make a special farewell to President Mugabe.
"The leaders engaged in a warm conversation as they held hands, and one would easily mistake the South African event for the continuation of President Xi's state visit to Zimbabwe."
Minister Mumbengegwi said of the Summit: "The high watermark was the opening session when (Presidents Mugabe, Xi and South Africa's Jacob Zuma) spoke. The function for President Xi was to spell out what China had in terms of assistance to Africa for the next three years.
"The President commended China for the positive developments it was bringing to Africa and also outlining Africa's position in terms of what they expected and appreciated in the relationship, and how the relationship was different from the former colonisers."
President Mugabe got rousing applause from the 40-plus Heads of State in attendance, with President Zuma describing the African Union Chair's delivery as rich in wisdom.
At the round table discussions, President Mugabe said: "As you are aware, China, together with Russia, exercised their veto to block attempts by Britain, the United States and the European Union to bring Zimbabwe under Chapter VII (sanctions) of the Charter of the United Nations.
"Zimbabwe and China have, thus, had historical relations which have made them all-weather friends. We both cherish the principles enshrined in the Charter of the United Nations which include those of the equality of nations and their right of self determination."
President Mugabe highlighted that China was Zimbabwe's largest investor, with companies from that country implementing several major projects.
"Zimbabwe is currently implementing its economic blueprint, support set, which is anchored on indigenisation, empowerment and employment creation. Our economic blueprint is propelled by the judicious exploration of our abundant natural resources.
"With value-addition and beneficiation of our natural resources as its policies, Zimbabwe welcomes China's support for facilitating and encouraging more Chinese enterprises to invest in its productive sectors and financial institutions."
President Mugabe said last week's successful visit to Zimbabwe by President Xi was clear testimony to the ever-growing Harare-Beijing partnership.
"President Xi Jinping's visit afforded us the opportunity to review the state of our bilateral co-operation. It enabled us to conclude agreements in several sectors. We also were able to exchange views on global issues of mutual concern. I want to again thank you, President Xi Jinping, for that memorable visit," he said.
And in an interview with China's CCTV, Zimbabwe's leader said the US$60 billion development aid from China would transform African economies from being exporters of raw materials to producers of higher value processed products.
President Mugabe described as nonsense claims that China was colonising Africa, saying former European colonisers were actually the ones who continued to plunder the continent's resources.
He also slammed illegal Western sanctions on Zimbabwe as an example of this still subsisting predatory approach by ex-colonisers.
On Friday, at the Summit's opening, President Xi outlined China's US$60 billion funding structure.
The development financing includes US$5 billion in grants and zero-interest loans, US$35 billion in concessional loans, an additional US$5 billion to the China Africa Development Fund, and an initial contribution of US$10 billion to the China-Africa Fund for Production Capacity Co-operation.
President Xi said the plan will support creation of industrial parks and regional education centres, as well as training 200 000 African technical personnel.
Agriculture modernisation will involve technology transfer, large-scale grain storage and animal husbandry. Agricultural specialists will be deployed to 100 African villages.
President Xi said China would help with planning, design, construction and maintenance of railways, roads, aviation and maritime ports, and energy installations; in addition to building five transport universities.
Beijing will push its financial institutions to open branches in Africa to spur co-operation.
Further, China and Africa have identified 50 trade-for-aid programmes.
The Asian giant will also participate in building the African Centre for Disease Control, a venture that will see 20 Chinese hospitals partnering 20 South African health institutions.
Another US$60 million will go to building the African Standby Force and African Capacity for Immediate Response to Crises.
HERALD