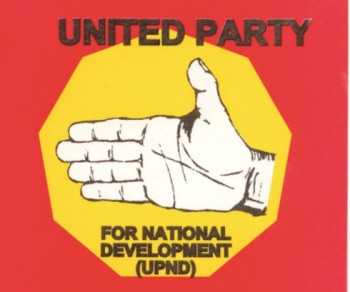 UNITED Party for National Development (UPND) president Hakainde Hichilema and his deputy in charge of administration Geoffrey Mwamba yesterday disobeyed police advice not to hold public meetings in Copperbelt Province, triggering clashes with suspected Patriotic Front (PF) cadres in Kitwe's Cha Cha Cha township where the opposition party's offices are situated.
The incident happened around 10:30 hours but quick action by police in riot gear prevented the situation from degenerating into a full-scale physical fight.
In an interview yesterday, police spokesperson Charity Munganga-Chanda confirmed the clashes between PF and UPND cadres but that no arrests were made.
"UPND had notified us that they wanted to hold meetings on the Copperbelt but we told them that we were engaged with other activities and that we will be able to provide security for them beginning the month of December.
"We told them to come up with new dates but they decided to go ahead and hold a meeting in Kitwe without police security. In the process, there were such clashes. We managed to rush to the place and brought the situation under control," Mrs Munganga-Chanda said.
She warned the UPND to stop holding meetings on the Copperbelt and to instead be a law-abidding political party.
Mrs Chanda said the law is clear on what political parties are expected to do before holding public meetings.
"As Zambia Police, we are a public security resource. Our services are not only needed in one place but many places. They should stop holding meetings on the Copperbelt," she said.
Mr Hichilema and Mr Mwamba also featured on a programme on Kitwe's Radio Icengelo where they issued disparaging remarks against Government.
Vice-President Inonge Wina last week advised opposition parties not to hold public meetings on the Copperbelt in view of the challenges the mining sector is facing.
zambiadailymail