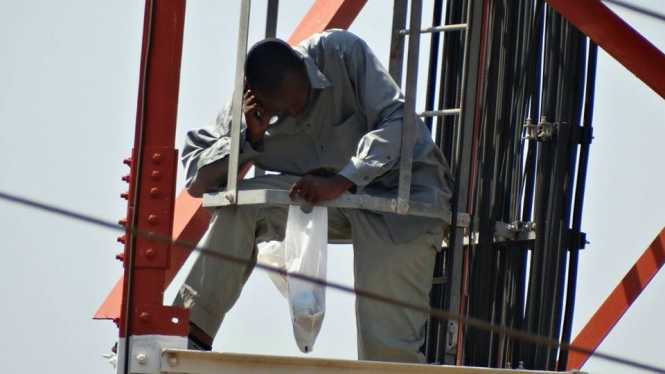 IN a rescue operation to win over one of their own, a Zambia Army special operations team yesterday displayed bravery and skill to save a discharged staff sergeant from a communication mast he had climbed in an apparent suicide attempt.
Staff Sergeant Trywell Katupila drew the attention of scores of people, including Zambia Army Commander Lieutenant-General Paul Mihova. Rarely do generals acquiesce to such social mischief or negotiations but Gen Mihova had to because there was a life about to be lost.
Staff Sergeant Katupila, 44, may have involuntarily left the army, but opted not to recall the army rules – that you need permission from the commanding officer to do virtually anything.
He decided to carry out the special stint in style by climbing a communication mast on Chitukuko Road near Arakan Barracks in Lusaka, turning the place into an instant spectacle.
He was outdone by one brave soldier who scaled the tower within seconds, resisted the violent kicks and grabbed the dissident, bringing him to the ground without a scratch.
The rescuer turned into an instant hero as he was lifted shoulder-high by the cheering crowd. Gen Mihova may already have called for his file for the obvious.
Katupila was hurled into an army vehicle as he inaudibly mumbled. That is part one.
So, what is the story of this ex-convict?
He claimed he was wrongfully dismissed and convicted and now wanted everything reversed, unconditionally.
He clung to the metal bars from 07:00 hours until 12:00 hours, threatening to plunge to his death if Gen Mihova did not show up. The general obliged, purely on humanitarian grounds. He provided the tonic after which his men acted, preserving a sorry soul.
Now it was time for police to say something. Up stepped police spokesperson Charity Chanda who said Staff Sergeant Katupila attempted to commit suicide on claims that he was wrongly convicted and discharged from the army.
"We have interviewed the victim and identified him as Staff Sergeant Trywell Katupila, 44, who was convicted in 2012 and was released in 2014 from Milima Prison in Kasama.
Sergeant Katupila was discharged from his duties in the army after he was found in possession of 106 rounds of ammunition," she said.
She added: "He has an appeal case in the Supreme Court which he is complaining that it's taking too long to come up. He maintains that a scheme was used to plant the offensive weapons in his house."
She said Staff Sergeant Katupila is seemingly battling the "tag of a convict", which he is challenging in his appeal case.
She said Sergeant Katupila was pushing the court and army to respond and expedite the case to ensure justice is done.
Police will verify the records at the Legal Aid Board, which is representing him before charging him.
ZAMBIADAILYMAIL