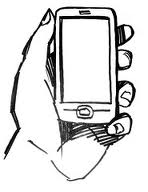 A LOCAL Court in Lusaka heard how a man who has been keeping his phone away from his wife had his girlfriend's number discovered after he made a call from the bathroom.
The court heard that as the man was coming from the bathroom there a was beep on his phone and decided to go back to make a call but this infuriated his wife who immediately grabbed the phone to see who was communicating with.
This was heard in Matero Local Court in a case in which Catherine Lungu, 35, of Zani Muone sued her husband, Azele Phiri, 37, a mechanic for divorce.
The two got married in 2008 and have two children. Dowry was paid.
Lungu told Senior Court Magistrate Pauline Newa sitting with Magistrate Lewis Mumba that they married in church but Phiri has since stopped going to church.
She explained that later Phiri started coming home as late as 01.00 hours and that she didn't know why he was behaving like that.
She said Phiri never left his phone alone but one day after bathing he was beeped and he rushed back to the bathroom to make a call.
"I asked Phiri who he was talking to but he failed tell me but as I wanted to get the phone his towel fell off and he squeezed my hand as he hid behind the door,
The following day when I called it a woman answered and I told her in a polite way that I wanted to see her.
She agreed that they should meet at the market but never turned up.
Fortunately her friend knew Chile and showed her where her husband's girlfriend lived.
Lungu said that when they sat Phiri apologized but continued coming home late despite being pregnant. Phiri sometimes spent nights out. She explained that after she gave birth she stayed at her sister's place and Phiri did not bother to come over to see her and the baby.
Lungu said Phiri stopped work without telling her and that he did provide for the family adding that he did not regard her as a wife.
They last made love seven months ago.
In defence, Phiri admitted having taken to the bottle but said the problems Lungu talked about were sorted out a long time ago.
Magistrate Newa said that the court could not force Lungu to stay in the marriage because she complained that they had not been making love for seven months which meant that there was no love.
She granted the couple divorce without compensation but Phiri was ordered to be paying children maintenance fee of K300 per month and property acquired together to be equally shared.