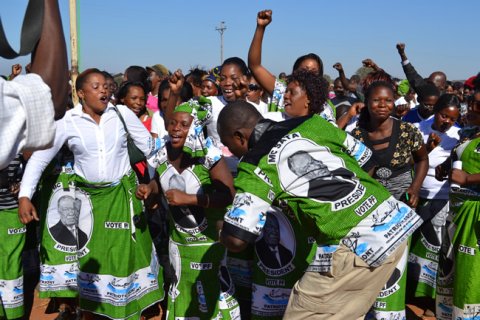 What started as an innocent interaction "Meet the Leader", a platform that covers Patriotic Front leaders and activists hosted by Nakiwe Simpungwe in PF whatsup group, turned sour and an eviction for one Sydney Maimbo Muyamba.
In this segment members wanted to understand the relationship the group has with PF national Youth Chairperson Chishimba Kambwili, his alleged links to the UPND and recent financial scandals that rocked his organisation # Team 7500 .
It didn't take long before members realised that Sydney displays double loyalties, encouraged UPND Members on his platform and promotes allegiance of youths to both the PF leader Edgar Lungu and UPND leader Hakainde Hichilema.
His answer brought more questions than answers.
A vote was taken and Sydney was evicted from the PF Whatsup Groups as he was deemed a plant and a danger to the inner activities of PF.
Recently Sydney has formed a facebook page "Race to Mandahill" calling for young people to enter into politics as Councillors and Members of Parliament.
But his most have been strange. Here is an example of his recent posts
"NOW HH, GET THE BUTTON FROM HEECL AT THE PRAYER MEETING"
And
"HH, SIR, GOD HAS GIVEN YOU RARE PRIVILIDGE TO GET BUTTON AT NATIONAL PRAYER"
Sydney who recently fired Chishimba Kambwili has appointed a new Patron (undisclosed)
The Youths exposed his "kolopa" tendencies of raising money through the PF name.
They also compared him to another dubious member Emmanuel Chilekwa who was practising similar tendencies.
PF