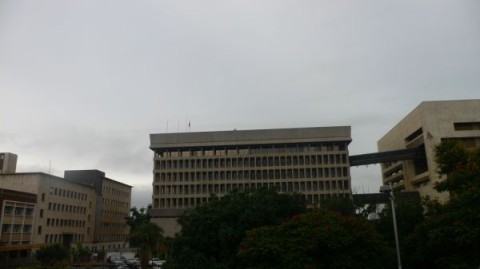 GOVERNMENT has called on the donor community to relax requirements involved in releasing funds for projects, to help enhance timely completion.
Finance Deputy Minister Christopher Mvunga said this in Lusaka yesterday when he visited the National Authorising Office (NAO) of the European Development Fund (EDF).
Mr Mvunga said it was necessary for donors to relax some requirements involved in releasing funds to help quicken the process of completing projects.
NAO of EDF is a Ministry of Finance department responsible for EU projects in Zambia.
Mr Mvunga urged NAO to engage the European Union (EU) representatives in Zambia and find ways of reaching a favourable balance for both Zambia and the European Union.
"There is need to find a balance between Zambia and not only the European Union, but with all other donors who are funding projects. This is because some measures put in place are complicated and lead to some projects stalling," he said.
He said Government was indebted to the EU and all the other donors for the supplementary role in providing resources for developmental projects.
He said the cooperating partners were funding projects in science and technology, road infrastructure and agriculture sectors.
Mr Mvunga said there was also need to identify specific roles for different officers in project implementation.
He observed that one of the reasons some developmental projects took longer to progress was due to certain people passing blame on others.
In order to reduce this, Mr Mvunga said, there was need, at the start of the project to identify specific responsibility for every officer involved in the whole process.
EDF coordinator Temwani Chihana said NAO was currently working on the 11th EDF, which should run from 2014 to 2020.
Some of the projects included funding of the Kariba Dam rehabilitation project and strengthening of the electoral system.
Mr Chihana said NAO had challenges with some projects involving taxation issues with the Zambia Revenue Authority.
Meanwhile, Mr Mvunga said he was happy that the Central Statistics Office (CSO) building under construction was nearly ready for occupation.
Mr Mvunga said when he visited the office everything looked good and CSO should liaise with Zesco to power the building immediately.
The building had been under construction since 2001.
Ministry of Works senior architect Isaiah Lungu said the completion delayed because it had to be redesigned at different stages since it was first planned in 1989.
Timesofzambia