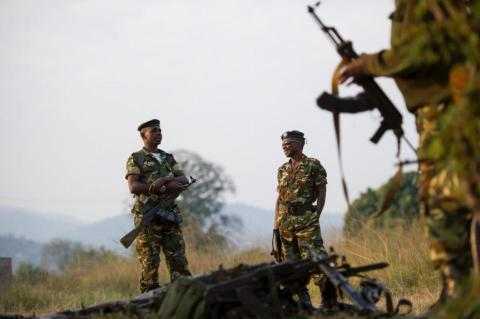 BUJUMBURA, Burundi — An army major in Burundi who is the deputy commander of an elite infantry unit failed to show up for work on Monday, sparking speculation he has defected, a spokesman for the country's military said Monday.
The missing major, Emmanuel Ndayikeza, had no reason to be absent as he had not sought time off duty, Col. Gaspard Baratuza told journalists in Burundi's capital, Bujumbura.
He said Ndayikeza's absence will be considered a defection if he is absent without leave for eight days. Ndayizeka is deputy commandant of a military unit known as Camp Muha in the south of Bujumbura.
Burundi has been tense since April when it was announced that President Pierre Nkurunziza would stand for a third term in office, sparking violet street protests. Nkurunziza was re-elected in July. Attacks on military outposts since then have raised fears of a rebel movement against Nkurunziza.
On Monday, the U.N. human rights chief expressed concerns about arrests, detentions and "unexplained killings" in Burundi.
Dead bodies are found nearly every day on the streets in some neighborhoods of Bujumbura and "in many cases, the victims appear to have been killed by a bullet fired at close range," Zeid Raad al-Hussein said in a statement. Reports suggest that many of those killed had been arrested beforehand by the police or the National Intelligence Agency, he said. Police have intensified searches for illegal weapons in Bujumbura, he said.
Zeid said his office has registered 134 killings, 90 cases of torture and hundreds of cases of arbitrary arrest and detention since April, including 704 arrests in September.
By Eloge Willy Kaneza
– See more at: http://en.africatime.com/burundi/articles/concern-burundi-army-major-goes-absent-without-leave#sthash.iYSEsGke.dpuf