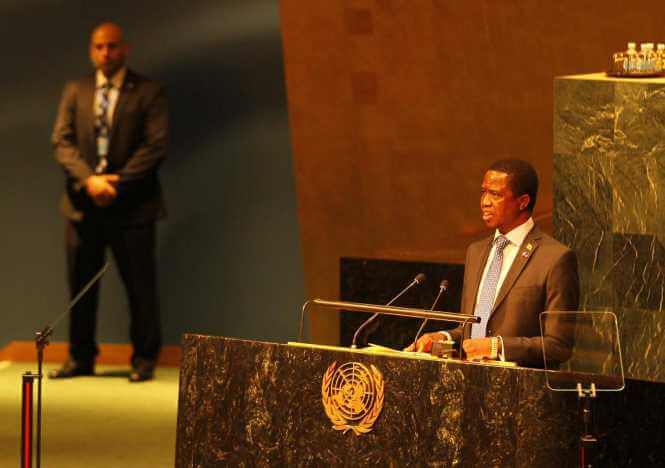 STATEMENT BY
HIS EXCELLENCY MR. EDGAR CHAGWA LUNGU PRESIDENT OF THE REPUBLIC OF ZAMBIA
ON THE OCCASION OF THE HIGH LEVEL EVENT DURING THE UNITED NATIONS SUMMIT FOR THE ADOPTION OF THE POST 2015 DEVELOPMENT AGENDA
"OPERATIONALISATION OF THE 2030 AGENDA FOR AFRICA'S INDUSTRIALISATION"
UN HEADQUARTERS, DELEGATES DINNING ROOM (WEST TERRACE)
13:00HRS-15:00RS.
NEW YORK
26TH SEPTEMBER, 2015
EXCELLENCIES,
DISTINGUISHED GUESTS,
LADIES AND GENTLEMEN,
It is my pleasure to participate in this high-level event dedicated to an issue that is of paramount importance in the post-2015 period. The focus of this gathering on "operationalisation of the 2030 agenda for africa's industrialisation" is critical to any substantive discussion on the 2015 development agenda.
Africa is a continent that has been characterised by poverty with almost half its population earning below 1.25$ per day. Zambia is among thirty-four countries in africa that are classified as least developed countries.
Although zambia is a least developed country, it has also been classified a lower middle-income country, by the world bank. Zambia is has sustained a steady gdp and trade growth over the last decade.
Despite the strides that have been made in economic growth and expanded trade, the major share of its exports is raw materials. As a result, this growth has not been sufficient to significantly reduce the poverty and unemployment in the country remains high especially amongst women and the youth.
Similarly, although the african continent as a whole has recorded higher gdp growth rates and significant increase in total trade, this gdp growth has had a comparatively limited impact on poverty reduction, improving livelihoods and facilitating access to economic and social opportunities.
As a consequence of this jobless growth, unemployment remains high, especially among the youth, particularly for young women. Income inequality is also on the rise.
The jobless growth is also in part a result of the economic growth being mostly propelled by exports of raw commodity products rather than value added products.
In addition, the export of raw materials renders countries vulnerable to external shocks and commodity price fluctuations.
In africa, particularly the countries that are both ldc and lldc's are net importers of finished goods thereby depriving the continent of economic development that comes with the export of finished goods.
The weak manufacturing base in our countries does not allow for local value-addition. As a result, jobs that should be in the country with the natural resource are being exported to countries that do have the capacity to add value.
The increasing dependency on finite primarycommodities proportionately increases the fragility of african states both economically and in terms of the environmental strain.
The primary resource based development path is unsustainable both in the short and long-term. As we have already established, increase in gdp or trade does not equal development. We have to industrialise for meaningful development.
Industrialization is indispensable for our countries to achieve sustained and sustainable economic growth that is socially inclusive and environmentally sound. It is therefore an inevitable solution to bring about the much needed structural economic transformation.
Industrialization-induced structural economic transformation will enable our countries to diversity their economy, raise productivity, create better jobs and increase their competitiveness in the global market.
African countries are committed to diversifying and industrialising our countries as enshrined in our 2063 aspirations. However, to diversify and industrialise our economies, we need the support of various partners.
We need effective and efficient partnerships with a broad range of stakeholders to implement the necessary policies and practices of change.
An important component of diversification and industrialisation is technology sharing and transfer. I call upon our development partners and the private sector to play an active role in facilitating technology transfer to african countries.
Technology will give african countries the means to be competitive and undertake value addition to our abundant natural resources.
Today's discussion on the kind of multi-stakeholder partnerships for industrialization is most critical. An interactive dialogue among governments, traditional and new donor partners, including governments, international financial institutions, private companies, and civil society and academia is vital.
I wish to implore unido to develop and implement a new and innovative partnership model for implementing industrial development plans and programmes at the national level.
This will compliment the efforts of countries like zambia as we work towards industrialising and diversifying our economies. It will also position unido as a strategic partner in the implementation of the 2030 agenda for sustainable development.
Let me end by thanking the organizers unido, au, uneca and osaa for providing this platform.
I thank you for your attention.
STATEMENT  Delivered by  His Excellency Mr. Edgar Chagwa Lunga
President of the Republic of Zambia
At the United Nations Summit on the Post 2015 Development Agenda
New York, United States of America
26th September, 2015
 Mr. President, excellences, heads of states
Honourable ministers, ladies and gentlemen,
Mr. President, allow me to join other dignitories in congratulating you for convening this landmark united nations summit on the adoption of the post-2015 development agenda.
I wish on behalf of the people of zambia to applaud the secretary general of the united nations, for his unwavering commitment to nurturing consensus of member states on sustainable development goals (sdgs).
I would also like to express gratitude to the co-facilitators for their distinguished leadership during the process. We further applaud member states and observers for the tireless efforts and constructive engagement that culminated in bringing this momentous task to fruition.
Mr. President,
This summit will go in the annals of history as the world is witnessing the end of the millennium development goals whilst ushering in the sustainable development goals and the post 2015 development agenda.
Zambia wishes to re-affirm its commitment to embracing a common development agenda which will help enhance development partnerships among member states.
Zambia acknowledges and appreciates the input from important developmental processes that have contributed to the success of this new development agenda notable among them are:
The third international conference on financing for development; and,
the high level political forum on sustainable development.
The multi-dimensional nature of this process signifies our determination to have a global development agenda that is responsive to the needs of the present generation without comprising the ability of the world to provide for the needs of the future generations.
To this effect, zambia looks forward to starting a new development era in 2016 within the spirit of "leaving no-one behind" with renewed vigour and focus. On this point, i thank the assembly for yesterday's adoption of the groundbreaking resolution a/70/l.1.
Let me thank his holiness, pope francis for his candid and inspiring remarks on the need for nations to take seriously the question of climate change and protection of the environment for sustainable development.
I am happy to report that in the 7th national development plan we are developing, climate change ranks among our top priorities.
Mr. President,
I am glad to report that at country level, a number of consultations were undertaken with various stakeholders with a view to put into context the fundamental provisions agreed upon by member states. Coincidentally for zambia, the sdgs and the post 2015 development agenda have come at a time when the country is developing its seventh national development plan.
This gives us greater latitude to effectively domesticate the various provisions of these global initiatives. We are glad to note that sdgs have brought out a number of development issues such as maternal health, poverty, gender equality, water and sanitation, land degradation, climate change, among others that zambia is determined to confront in the post 2015 era.
I wish to reiterate zambia's commitment to ensuring the use of evidence-based priority setting and targeted mechanisms with a view to achieve inclusive socio-economic development.
Mr. President,
Zambia being a least developed and landlocked developing country, will require support in completing the unfinished business of the mdgs, especially in the area of education, health, water and sanitation, gender equality, agriculture and science and technology.
With regard to technology, zambia underscores the need to forge south-south technology transfer cooperation as an essential component to accelerate the implementation of the sdgs and the post 2015 development agenda.
I wish to reiterate what i said at the high level meeting on the follow-up to the second united nations conference on land-locked developing countries held in zambia in june this year, that there will be need for the united nations office for south-south cooperation to fulfill its pledge and commitment to establish centres in these countries for purposes of technology transfer.
Being a pilot country, zambia is ready to fully participate in this initiative. We are also committed to institute strategies that will promote environmentally sustainable socio-economic development aimed at proactively addressing employment creation opportunities, particularly, for the youth and women in order to reduce poverty.
Mr. President,
My government recognises the importance of mobilising resources both domestically and internationally for development.
For this reason, the official development assistance and the foreign direct investment continues to play an important role in fostering sustainable development.
I therefore, call upon the developed countries to fulfil their pledges. As the developed countries honour their pledges, it is critical that developing countries put in place comprehensive institutional frameworks that will identify, promote and facilitate partnerships aimed at creating a platform for a shared vision that resonates well with the private sector to bring about a win-win situation between investors and the communities.
Let me take this opportunity to stress that sustainable development pre-supposes the existence of peace. In this regard zambia has been actively engaged in peace-keeping missions particularly in the central african republic (car) and in sudan. We are seeking the support of developed countries to help capacity-building of our troops so that they are better equipped to carry out such noble assignments.
In the same vein, zambia sees counter-terrorism initiatives as critically important in preserving peace and stability. In collaboration with regional and international partners, zambia remains committed to ensuring that we curb this scourge.
Mr. President,
In conclusion, zambia pledges to give primacy to sdg implementation as a means to stimulate its development trajectory that takes into account all the three pillars of sustainable development.
I also call upon the un to initiate follow-up actions and review processes as to promote cross-pollination of ideas and exchange of best practices. This will help attain higher global outcomes on sdgs and the post 2015 development agenda.
I am confident on behalf of the people of zambia that this summit provides us an opportunity to emerge stronger and more focused to attaining the post 2015 development agenda.
I thank you.
Chibaula D., Silwamba (Mr.)
First Secretary for Press and Public Relations,
Permanent Mission of the Republic of Zambia to the United Nations,