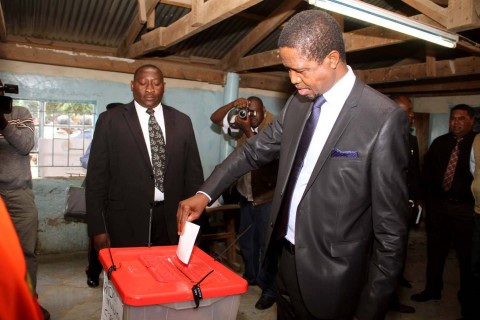 THE voter registration exercise in Solwezi district has suffered a setback after some centres ran out of registration materials.
District electoral officer Venture Kafula confirmed this in an interview yesterday but could not state the exact number of registration centres that have been affected.
Mr Kafula, who is Solwezi town clerk, said the materials which have run out are forms for voters' cards and laminating pouches.
"Yes, it's true that some centres have run out of materials, but the exercise is still on, and we are not removing officers from the centres that have run out of materials," he said.
Mr Kafula, however, assured members of the public that the Electoral Commission of Zambia (ECZ) is making arrangements to send the materials to the district to continue with the exercise.
Mr Kafula also dispelled rumours that ECZ has suspended the issuance of voter's cards to the people of Solwezi after some centres ran out of materials.
A check yesterday at four registration centres namely  Civic Centre, Solwezi Municipal Council, Community Development and Rodwell Mwepu found that the officers were not issuing voters' cards to eligible voters due to lack of materials.
One of the officers at Community Development said the centre ran out of some materials on Wednesday.
The Forum for Democracy and Development (FDD) in Solwezi has urged ECZ to send the necessary materials so that the programme is not disrupted further.
FDD national secretary Nathan Mulonga said the ECZ must ensure to deliver materials to all parts of the country so that the exercise could run smoothly.
The ECZ launched the voter registration exercise on Monday, September 14, and is targeting to register 1.7 million new voters ahead of next year's tripartite elections.
Zambia Daily Mail