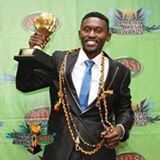 MUSICIAN and gender rights activist B-Flow has written to American singer-songwriter Taylor Swift regarding the music video for her new single of '1989' titled 'Wildest Dreams', which has been catching heat with some seeing it as racially insensitive.
For the most part, the video tells the tale of two 1940s-era movie stars, who are shooting a film on-location in the African desert. She has been accused of wanting a very white Africa.
In his letter to Swift, one of the top-selling artistes of all time, B-Flow seems to offer both sides, praising some aspects of her video and also offering suggestions on how she could have tackled it.
"I write to thank you for your new video for 'Wildest Dreams'. The first time I saw it, I thought of my late grandma, and how she would have reacted to it. Like me, I think she would have loved it, because she was proudly
B-Flow writes Taylor Swift over 'Wildest Dreams'
African.
"I love that you showed how beautiful our continent is… As a Zambian, I was so proud to see my neighbours, Botswana and South Africa, in a Taylor Swift video," he writes.
"Grandma would have probably used your video to remind me why I should continue shooting my videos here. A lot of us artistes in Zambia and elsewhere on the continent have had this belief that shooting our videos in the same locations as Beyoncé and Jay Z is a symbol of success, and so we aspire to shoot our videos overseas. I'm a culprit myself, having shot my last video in Oslo.
"Before I proceed, I should clarify that I can understand why some people are seeing your video as glorifying colonialism. After all, the characters in your video do not appear so different from Cecil Rhodes and his British South Africa Company (BASCo) counterparts, the colonial masters who scrambled for our minerals and land."
Then, B-Flow goes to suggest that perhaps, the clever thing to do is include blacks in the video, and portray them as the masters, so as to position herself as an ambassador of anti-racism.
"That having been said, here is why I'm thanking you for your video. In Zambia, we love to show the world the kind of sights you exhibit in your video. It is important for us to do so because these sights define our tourism, which is one of our most promising sectors for economic growth," he writes.
"…For a long time, international media has portrayed our continent as a place stricken by poverty or famine, or as a playground for animals like the ones in your video. I will take your video as a wake-up call. It's my job to show the side of Africa that is missing in your video.
"Instead of flying overseas to shoot my next video, what I should do is take up the responsibility of showing that we, too, have cities with streetlights, skyscrapers and shopping malls, like my favourite chilling spot, Eastpark Mall, in Lusaka, and that some Africans, too,have swimming pools in their backyards, and arenas like Johannesburg's Ellis Park Arena, where the first ever NBA game on the continent recently took place."
zambiadailymail