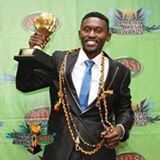 ANDRE Entertainment and the newly opened G-Greens Pub & Grill have stepped up preparations for B Flow's welcome musical show from the United States, where he has been based.
B Flow had travelled to the US as a Mandela Washington Fellow and remained behind for his Professional Development Experience.
Andre Entertainment director Andrew Zulu says the welcome show will see several of B-Flow's friends and fellow musicians gracing the event.
" I t i s o ff i c i a l , Andre Entertainment in collaboration with G-Greens Pub & Grill is hosting B-Flow's welcome party at G-Greens on September 25, 2015," Zulu announced.
The welcome gig will be preceded with the 'Mingling with B-Flow' show, which will give B-Flow's adoring fans an opportunity to mingle with the reputable singer.
Meanwhile, Zulu has appealed to all well-wishers and the music fraternity at large to come in numbers and support the Gender Ambassador, who was recently described by US President Barack Obama as "an advocate against gender-based violence and an educator of HIV and AIDS awareness".
The most powerful man on earth had asked for B-Flow during the 2015 Mandela Washington Fellows at a town hall meeting in Washington DC, by asking: "Where is Zambia's Brian Bwembya?"
In October, B-Flow has announced that he is kicking-off his 'Inspire the Children Tour' which will eventually see him tour dozens of schools for eight months in a row.
And as part of his assignment at Okayafrica, the company in New York where he was pursuing his Professional Development Experience, B-Flow wrote an article, which instantly went viral, that explains the evolution of Zambian music as a way of introducing it to the rest of world.
And to prove that B-Flow (below) is now a global music icon, last Sunday he was among scores of New Yorkers who attended the Nigeria Entertainment Awards, which were hosted by Ice Prince and saw Nigeria's revered singers Davido, Yami Aledi, M.I., Eddy Kenza, Olamide and Paturan King in attendance.