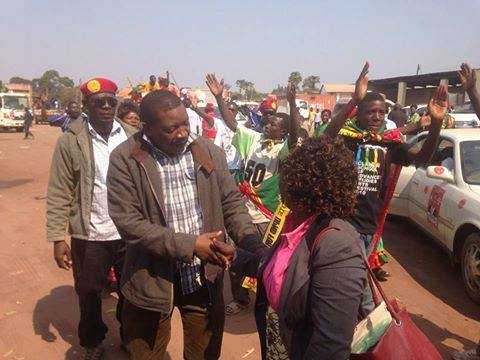 HH wrote, our supporters outside Luwingu Police Station, Northern Province, this morning where they escorted our candidate Hon. Patrick Mucheleka for interviews. We have been fully briefed and so far it's a clear case of wanting to humiliate and embarrass our candidate in Lubansenshi bye elections.
All this is being done in order to derail our campaigns which so far are going on very well. These are some of the tactics they have always used and we think we cannot tolerate such any longer.
Our campaign camp was raided at a place called Luena Mission in Lubansenshi and they arrested almost the entire team around midnight on accusations of beating a District Commissioner and later denied them bail until court processes. Our people have so far been very peaceful in all these campaigns but our colleagues are again back to the usual tactics of intimidation, harassment and pure provocation.
Our Vice President Geoffrey Bwalya Mwamba (GBM), who is still legally a serving Kasama Central Constituency Member of Parliament was equally humiliated at the airport over the diplomatic passport he has been using ever since he became an MP, even before being appointed Minister.
The taxpayers are spending lots of money on these civil servants called DCs that are purely PF cadres at a time we can channel such resources to other needy areas, especially during this period of economic downturn being faced in our country.
Our team will soon be in Lubansenshi to join others already on the ground, but we are slowly running out of patience with such electoral intimidation.