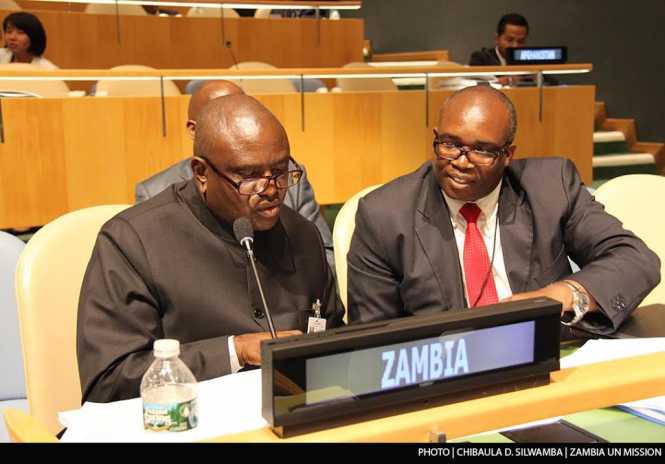 Speaker of the National Assembly of Zambia, The Right Honourable Justice Dr. Patrick Matibini, SC, has joined about 180 other parliamentary leaders at the Fourth World Conference of Speakers of Parliament at United Nations Headquarters.
The three-day conference, with participation from Speakers and Deputy Speakers of Parliaments from across the world was opened today (Monday) by Inter-Parliamentary Union (IPU) President Mr. Saber Chowdhury, United Nations Secretary-General Mr. Ban Ki Moon and the President of the UN General Assembly Mr. Sam Kutesa.
The Conference will focus on peace, democracy, and development under the General Debate titled: "Placing democracy at the service of peace and sustainable development: Building the world the people want."
The Conference will focus on Sustainable Development Goals (SDGs), which are due to be launched by Heads of State and Government during the UN Summit to adopt the Post-2015 Development Agenda, between 25th and 27th September, 2015 during the Seventieth (70th) Session of the UN General Assembly.
SDGs are a proposed set of goals relating to future international development with wide-ranging targets expected to be met by 2030, including ending extreme poverty and hunger, promoting peace and ensuring sustainable patterns of development and consumption.
The Conference, convened by the IPU every five years in close cooperation with the UN, will adopt a declaration that will feed into the Summit on Post-2015 Development Agenda.
The Inter-Parliamentary Union (IPU) is the global organization of national parliaments and works to safeguard peace and drives positive democratic change through political dialogue and concrete action.
Issued by:
CHIBAULA D. SILWAMBA (Mr.)
First Secretary for Press and Public Relations
Permanent Mission of the Republic of Zambia to the United Nations