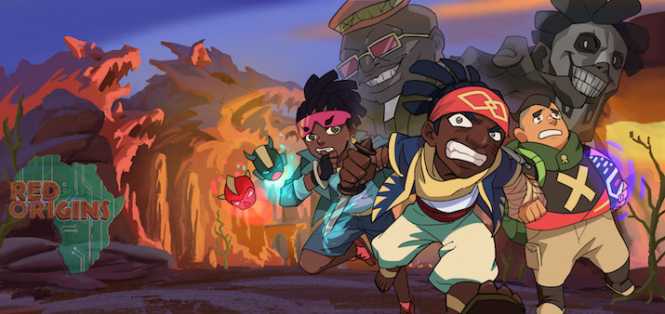 Red Origins is an animated series currently in development from Kolanut Productions, a Los Angeles-based animation, comic, and gaming production company that focuses primarily on what the creators refer to as the untapped and emerging market of "African Magical Futurism." The show follows the young characters of Obi, Temi and John as they mystically get transported to 2070 Neo Africa. "Upon arrival they mistakenly break a bronze taboo and are forced to join a Peacekeeping Magical Juju Force," reads a synopsis. "In order to return home they must help stop a brewing war between Ancestral Africa and Neo Technological Africa."
The series and production house are the brainchild of first generation Nigerian-American brothers Onyi and Obi Udeogranya, who started the project in 2012. "Onyi told me Disney is running out of ideas and good stories," Obi (the chief writer on Red Origins) explained in an email to Okayafrica. "He [Onyi] said Disney keeps repeating stuff, and the industry needed something new and original. Nickelodeon brought back old shows because they aren't developing good new stories. That something new and original they need is Africa. Africa is an untapped market that no one knows about and is filled with stories that are amazing. As he spoke I thought of the lessons of cinematic portraits of Africa and the animated movies Tarzan and Lion King. He said there are no animated shows about Africa– he was right. I thought in the sense of a show 'about' and not 'in' Africa. Africa is the new frontier for animation he [said]."
The Udeogranyas initially set out to create an "African version of Dora the Explorer" to teach Igbo to toddlers. Titled Obi and John, that concept was eventually dropped– instead, the brothers set their sights on developing the "AfroAnime" project Red Origins.
"We recognized other cultures had the ability to tell amazing stories while educating the masses on their rich history… that is everyone except us… the Africans," Onyi (Red Origins' producer) told us about his inspiration for the series. "So we wanted to do something about it. Africa itself inspired us. The more we researched on Africa in its entirety the more excited and inspired we became. Nnedi Okorafor, Ben Okri, Chinua Achebe, and all of the amazing Africa fantasy writers."
"We have already over a hundred characters and we cover the whole continent in the story, making it truly a Pan-African story," says Obi. "We want to push popular culture and create a complete exciting world set 'in' and 'about' Africa that people can enjoy."
The Udeogranya brothers are currently campaigning to fund 'Red Origins.' Keep up with the series on Facebook / Twitter / Tumblr.
What do you think?