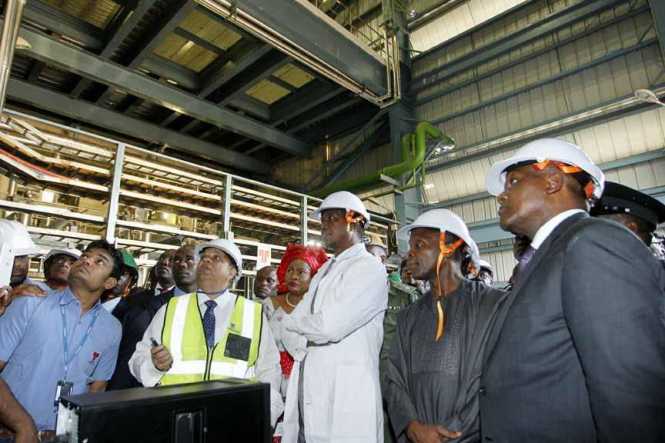 Africa's richest man is pushing to dominate its market for cement, the material at the heart of the continent's infrastructure boom.
All that stands in his way is the world's biggest cement maker, a flood of low-priced imports, the threat of slowing growth in contracts for dams, ports and roads and a slump in the most-traded emerging-market currencies to a record low.
It's not stopping Aliko Dangote.
"Africa's future growth is intrinsically linked to cement," Dangote, 58, told assembled dignitaries, including Zambian President Edgar Lungu, earlier this month as he opened a new factory on the outskirts of Ndola, Zambia's third-largest city. The material is "the most basic input into building infrastructure."
The plant will help bring Dangote Cement Plc's total production capacity to 43 million tons by the end of this year, within striking distance of the African capacity of market leader LafargeHolcim Ltd. — which runs its own Zambia factory about 30 kilometers (19 miles) from the plant Dangote was opening.
Dangote Cement, which has expanded capacity five-fold in the last four years, plans to about double potential output, to 80 million tons, Dangote says. The Ndola plant is one of five new factories he's opening this year across sub-Saharan Africa, including two in the LafargeHolcim strongholds of Cameroon and Zambia.
New Factories
Africa has become one of the world's fastest-growing regions for the building material as rapid urbanization and spending on transport, power and shipping boost demand. Significant projects under construction include Ethiopia's $4 billion hydro-power dam on the Blue Nile River and a $13 billion railway that will link the Kenyan port of Mombasa to the Rwandan capital of Kigali via Uganda.
With 50 million tons a year of cement capacity, LafargeHolcim is the largest producer in continental Africa. Domestic producers also must compete with cheap imports from countries including Pakistan, according to Bloomberg Intelligence analyst Sonia Baldeira.
"Dangote is rapidly expanding its footprint across sub-Saharan Africa," said Pabina Yinkere, head of research at Lagos-based Vetiva Capital Management Ltd. "Many of the cement plants within the region are old and aging. Their efficiency has fallen, so with its new plants it will be able to compete strongly."
LafargeHolcim shares rose 3.7 percent at 2:10 p.m. in Zurich, while Dangote Cement was unchanged at 164.50 naira.
Falling Prices
The additional production from Dangote's new …. Read More …
By Bloomberg News