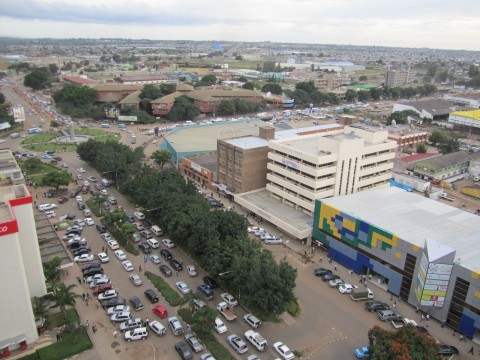 TO begin with, Lusaka itself was a very pleasant surprise and turned out to be modern, spotlessly clean city with an abundance of parks and gardens. Indeed, it was much nicer than any of the dirty Lancastrian towns with which I was familiar. The colony seemed to be far more amenable to the good life than was the mother country. – Frank Bennet-writing in Under An  African Sun; Memoirs of a colonial officer in Northern Rhodesia.
DURING the centenary celebration when Lusaka turned 100 years, the former Lusaka Mayor Daniel Chisenga observed that it was unfortunate that the city has since lost the concept of being a garden city.
Mr Chisenga said there was need for residents to exercise responsibility in terms of cleanliness in order to retain the concept the city was built on.
Recently, the Economist Intelligence Unit ranked Lusaka the third worst city to live in only better than Tehran in Iran and Kenya's Nairobi.
All these concerns need heeding since Lusaka is disorganised, dirty and an unregulated concrete jungle that need massive re-planning.
As expected of a metropolis that is unplanned and over-populated, Lusaka has become one big dumping ground of litter since the council has no capacity to collect garbage.
The problem of congestion has birthed the problem of garbage collection which the Lusaka City Council cannot manage to collect.
With the understandable inadequacy of manpower, we can forgive the Council whose capacity in offering services cannot match the growing population.
The Council acting public relations manager Mulunda Haabenzu has been quoted in the Press attributing the littering of the city to irresponsibility among citizens.
However, this is just one of the problems to the multi layered problem that cries out for immediate intervention.
Apart from litter, there are also inadequate toilet facilities to match the inhabitants leading to open air relief similar to that of over-populated countries like India.
Even areas that are supposed to be in the city's major avenues like Cairo Road emanate urine stenches because people use secluded corners like alleys, trees and unused booths to relieve themselves.
An example is trees opposite Ambia House on Cairo Road which vendors use as 'urinals.'
While condemning the colonial policies that at one time made the city inaccessible for most 'natives', once can conclude that such regulations though racist managed to control human movement.
Besides dirtiness, the city has an abnormal human traffic that should call for intervention.
With a population of 3.5 million people, (the population of Zambia at independence), authorities are better of implementing both short and long term measures to contain the escalating number of people in the capital.
Experts have noted that Lusaka's infrastructural growth has not matched the increase in population and spatial growth, which has contributed to its congestion.
The measures should cover the immediate, short, medium and long term all which will help to re-design the city's mass transport system afresh.
This among other measures calls for an expansive road building and improvement projects within Lusaka and its environs.
Also to be prioritised is the immediate action in the conversion of roundabouts into signalised junctions, with the city's main arterial roads that feed into the major highway that links the city to other towns.
At the moment Lusaka is experiencing unprecedented and heavy traffic snarl-ups largely as a result of growing vehicular traffic that is largely composed of private cars.
Unlike in yesteryears, owning a car now is not a luxury considering that an average of 50 second hand vehicles are imported per day seven days a week from South Africa via the port of Durban in South Africa.
The influx translates to something around 300 motor vehicles per month being offloaded in a city whose road network has largely remained the same since colonial days.
This has led to serious road congestion resulting in convoys of vehicles in the mornings and evenings especially during working days.
Among several measures to address traffic jams is the reintroduction of the Njanji Commuter Services, which operated between the densely populated Chilenje and George Townships from 1991 to 1998.
Institutions like the Engineering Institution of Zambia has proposed a number of measures to addressing road traffic congestion in Zambia.
Engineers who gathered at a public discussion in Lusaka last year said there was an urgent need to address the situation.
The panelists drawn from the Engineering Institution of Zambia, Lusaka City Council, Roads Development Agency, National Road Fund Agency and the Ministry of Transport and Communications all agreed that Lusaka needs a new transport management system.
Engineering Institution of Zambia Vice President George Sitali said there is need to make bold statements that all the institutions mandated to manage the road system in Lusaka have failed the city.
As measures are being discussed to decongest the city, Lusaka has been ranked among the lowest cities in Africa in terms of infrastructure development and advancement, according to a Pricewaterhouse Coopers 2015 report.
Of the 20 African cities surveyed, Lusaka ranks number 14, scoring 74, ahead of Accra, Kampala, Maputo, Dar es Salaam, Kinshasa and Luanda.
Though Lusaka is not among the ten most congested cities in the world, it can qualify as being one of the most disorganised metropolises.
We call on authorities to uphold the master plan for Lusaka which was based on the concept of the "garden city", a quintessentially British creation.
As Frank Bennet, the former colonial officer wrote in these memoirs Under An African Sun; Memoirs of a colonial officer in Northern Rhodesia quoted above, there is need to take action before the city becomes unmanageable.
TimesofZambia