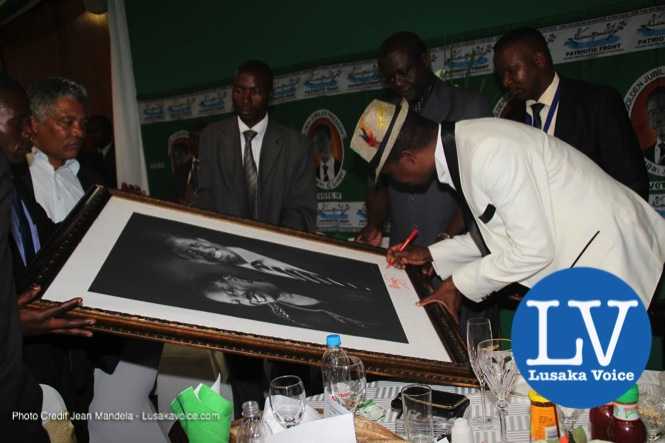 Republican President Edgar Lungu has asked party members that are wishing the ruling Patriotic Front (PF) defeat in the 2016 general elections to leave the party.
President Lungu has particularly advised party members that are criticizing him and his administration to get out and join their company whom he has referred to as losers.
He says if such members think that the ruling PF is losing they should go where they think they will win, stating that as far as his party is concerned 7 wins out of 7 elections coupled with massive defections to his party, is good tidings.
President Lungu, who is also PF president, says he therefore finds it reverse logic for some parties that have been persistently losing in Parliamentary by-elections to think that they can win next year's general elections.
He believes that the PF being a ruling party has a strong foundation that remains unparalleled by any party, past and present, because it is a people's movement.
President Lungu has since urged all party structures across the country to dedicate to raising the standard of the party to the extent that those who have doubted PF's resolve to deliver, can wake up to the shock of seeing the ruling party growing from strength to strength.
He is calling upon all party members across the country to rise, return to work and help rebuild the ruling PF.
The President was speaking last night in Lusaka during a fundraising dinner dance dubbed 'Meet the President Dinner Dance' that was organized by the PF Media and Publicity Committee.
And President Lungu says his government will not be distracted by the pessimism that some people are showing by reducing the recently launched Action Plan on Youth Empowerment and Employment to a '500, 000 jobs' debate.
He says as Head of State he is inspired by the hope and optimism of the Zambian youths that if they act together and courageously with government a new Zambia that is free from scandalous malice, hate speech and Zambia where everyone feels at home is possible.
President Lungu is convinced that government can and must do more for the youths because he does not think Zambia currently has an excuse of not raising a generation of entrepreneurs.
Speaking earlier at the same dinner PF National chairperson Ngosa Simbyakula observed that Zambia is standing at a critical point in history where citizens must choose right or wrong.
Dr. Simbyakula who is also Justice Minister however notes that his party has the right agenda for the country because the ruling party seeks not self praises but service to the nation.
In passing a vote of thanks, PF Media and Publicity Committee vice chairperson Sunday Chanda hailed President Lungu's gesture of finding time out of his busy schedule to grace the dinner.
Among the notable people that attended the dinner included Republican Vice President Inonge Wina and Agriculture Minister Given Lubinda.
During the dinner President Lungu's black hat was auctioned to a tune of US$10, 000 to a bidder to sought anonymity.
Other things that were auctioned were his black bow tie, Portraits and CD cassettes bearing his signature.
QFM NEWS