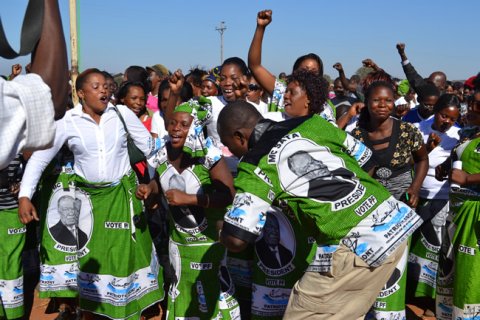 The Patriotic Front on the Copperbelt has warned against infighting ahead of the 2016 General elections.
And Copperbelt PF Provincial Chairman Steven Kainga says all members of parliament who have failed to deliver will not be adopted for the 2016 elections.
Mr. Kainga who was speaking when he addressed hundreds of Provincial and district party officials at Kitwe's Buchi hall, said citizens want leaders who will champion development.
He said all those elected to serve in the PF government must strive to ensure that they deliver on the party's promises to Copperbelt residents.
Meanwhile Mr. Kainga says the PF on the Copperbelt has resolved to rally behind the candidature of President Edgar Lungu as the party's sole Presidential candidate in the 2016 general elections.
And Kitwe PF Chairman Kelvin Sinyangwe says the party in the district is intact and has rebranded itself in readiness for the 2016 polls.
znbc