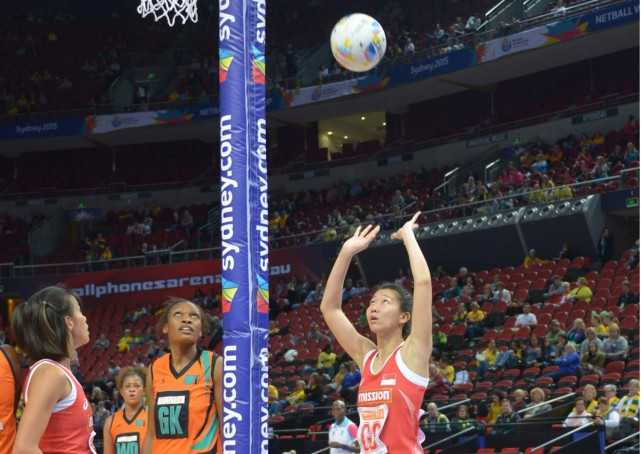 A 50th international appearance is usually a special occasion for any athlete.
But, for Singapore's Charmaine Soh, her 50th international Test cap yesterday was one to forget, as the Republic fell 67-36 to Zambia at the Netball World Cup.
There was hardly anything positive for the Asian champions to draw from a flat performance at the Allphones Arena at the Sydney Olympic Park.
The Africans may be similar in size and stature as the Singaporeans, but they were by far the quicker and more energetic side.
Pausing at times to find her words after the game, Soh, 25, said: "They are a very fast and agile team, and we did not treasure our own passes and possession."
ACCURATE
Singapore coach Ruth Aitken said: "Zambia were incredibly accurate on the attack. We just couldn't get any ball on the turnover, which was unusual for us.
"They are very athletic in a very unassuming way, and we just struggled to adjust to their style."
Zambian shooters Diana Banda, Lucy Jere and Elizabeth Bwalya had conversion rates ranging from 84 to 94 per cent.
By contrast, Soh converted just 54 per cent of her shots, while her compatriots Chen Huifen and Yu Meiling had 63 and 64 per cent accuracy in the shooting circle respectively.
Soh said: "It was down to our own mistakes, I felt it was more due to our own mental strength. We were not up to the task.
"Physically, we were okay since we had a rest day yesterday, so we could have done so much better. It was disappointing and a hard defeat to take, but we will learn from it."
New Zealander Aitken is looking into improving the players' shooting positions for the next game.
She said: "I certainly don't think there was a lot more pressure on the shots… it's about the shooters having to have confidence, and I suppose it's about being comfortable in the seat of their shots.
"We need to look at how they are taking the ball to make sure that they are well-balanced to put the ball up, because they are good shooters.
"But we are not shooting at the level that we need to."
While the Republic would be playing for positions 13th to 16th anyway, a victory yesterday would have put them in a better position to finish in the top half of that bracket, as it would mean that they will play Sri Lanka today for a spot in the 13th-14th placing game tomorrow.
Because they lost, they will play world No. 9 Barbados instead.
Aitken said: "Barbados had today off… we've chosen the hard road, we just have to walk it now."
Meanwhile, Soh has vowed to up her game.
She said: "It was a very disappointing 50th cap for me because I felt I also didn't play well and could have done more to help the team. I will do much better on my 51st cap."
– See more at: http://news.asiaone.com/news/sports/shooting-woes-singapore#sthash.Dqe9AvbB.dpuf
Photo: The New Paper