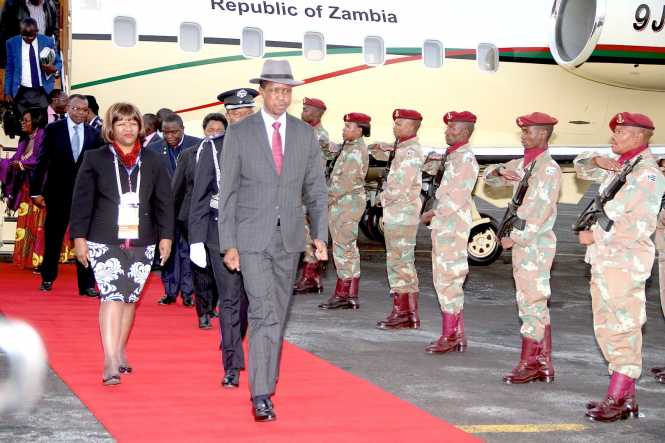 President Edgar Lungu is tomorrow  expected in Gaborone, Botswana to attend  the 35th Ordinary SADC Heads of State and Government Summit which is scheduled for 17th to 18th August, 2015.
Zambia's Acting High Commissioner to Botswana Wesley Chikwamu told journalists today at the Zambian mission in Botswana that President Lungu will be accompanied by Minister of Foreign Affairs Harry Kalaba and some senior government officials.
Mr. Chikwamu also reiterated that Zambia's participation in this year's 35th Ordinary SADC Heads of State and Government Summit reaffirms the country's commitments to the ideals and objectives that of SADC whose establishment was pioneered among other countries, Zambia.
He explained that the summit which is being held under the theme Accelerating Industrialisation of SADC Economies through Transformation of Natural Endowment and Improved Human Capital," is expected to review progress made since the last summit held at Victoria Falls town, Zimbabwe, in August, 2014.
"Preparatory meetings for the summit were held for senior level from 10th to 13th August, 2015 and the Council of Ministers from 14th to 15th August, 2015," Mr. Chikwamu further said.
Mr. Chikwamu, further said the preparatory meetings reviewed and made recommendations on issues for discussions at the SADC Heads of State and Government Summit.
The deliberations, among others, will focus on the Industrialisation Strategy and Roadmap, and the Finalisation of the Revised Regional Indicative Strategic Development Plan (RISDP) 2015-2020.
Other issues to be deliberated on will include the region's political, socio-economic development issues, regional integration, budgeting, human resources and administration and the implementation of decisions passed by previous Summit.
The Acting High Commissioner also confirmed that 14 member states will attend at the Summit.
"There are 15 member states but Botswana is hosting and the 14 namely Angola, DRC, Malawi, Tanzania, Namibia, Seychelles, Mauritius, Mozambique, Swaziland, South Africa, Lesotho, Madagascar, Zambia and Zimbabwe, "he said.
During the Official Opening of the 35th Ordinary SADC Heads of State and Government, Zimbabwe's President Robert Mugabe, who is the SADC chairperson is expected to handle over the SADC Chairperson's Badge to the Incoming Chairperson, Lt. Gen. Seretse Khama Ian Khama, President of Botswana.
Further, it is also expected that the President of Tanzania Jakaya Kikwete will bid farewell as his country goes to the polls in October, this year.
On 14th August, 2015, the Outgoing SADC Chairperson of the Council of Ministers Simbarashe Mumbengegwi handled over his chairpersonship to Incoming Botswana's Kenneth Matambo.
Zambia's Minister of Commerce, Trade and Industry Margaret Mwanakatwe with   her Permanent Secretary Siazongo Sikalenge and Foreign Affairs Permanent Secretary Chalwe Lombe attended the SADC Council of Ministers meeting.