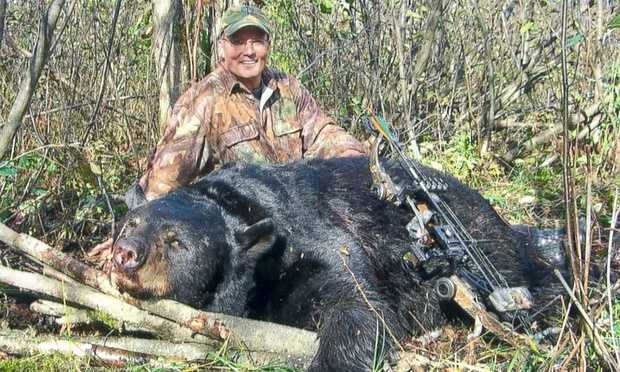 Newly released photographs show the now infamous Minnesota dentist Walter Palmer with a black bear he killed illegally in 2006.
Palmer, a big-game hunter who posts pictures of his kills on social media, incited global outrage last month after killing a protected 13-year-old lion named Cecil in Zimbabwe's Hwange national park.
A veteran bow hunter, Palmer killed a black bear illegally during a hunt inWisconsin in September 2006. He pleaded guilty to making a false statement about the hunt in 2008. Palmer paid a fine of nearly $3,000 and was sentenced to one year of probation.
According to court documents, Palmer was authorized by the Wisconsin department of natural resources to hunt and kill a bear within a certain zone.
Palmer, along with other members of his hunting group, killed the black bear about 40 miles outside of the authorized zone.
Palmer and the rest of the hunting group agreed to lie and say the bear was killed within the authorized zone if questioned by authorities. They transported the bear carcass to a registration station in the authorized zone, and Palmer filed a bear registration stub, falsely certifying that the bear had been killed in the zone.
Later, Palmer told an agent of the US Fish and Wildlife Service that he had shot the bear in the authorized zone and said that he thought the bear had been killed legally.
Photos obtained by ABC News from the Wisconsin department of natural resources show the black bear lying dead in the forest with Palmer posed behind it, his crossbow resting on the bear. Another photo shows Palmer posing next to the bear carcass strung up by chains so it appears to be standing.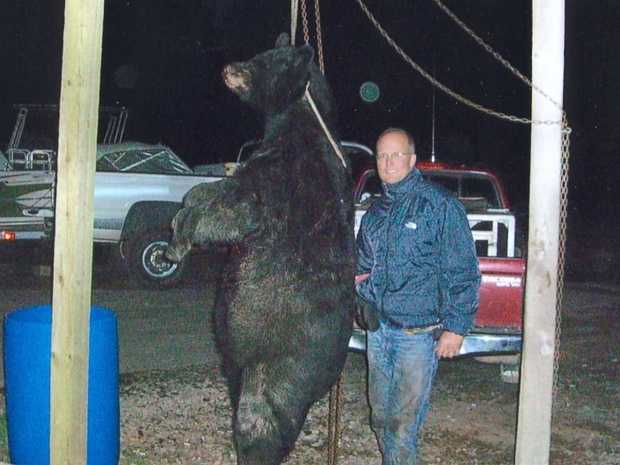 Palmer has stayed out of the public eye since reports of Cecil's death put him at the center of an international storm, and inspired several investigations and petitions. The lion was reportedly lured outside the park's boundaries and wounded with a bow and arrow, before being shot dead hours later.
Zimbabwe has called for Palmer's extradition from the US to face trial for financing an illegal hunt in July. The US Fish and Wildlife Service opened an investigation into the killing to see if any US laws were broken. A White Housepetition calling for the dentist's extradition has reached 234,810 signatures, exceeding its goal of 100,000 signatures by 27 August.
River Bluff Dental, Palmer's dental clinic in Bloomington, Minnesota, has remained closed since July. In a statement to the Guardian in July, Palmer said he had been in Zimbabwe earlier in the month on a bow-hunting trip.
"I hired several professionals and they secured all proper permits," he said. "To my knowledge, everything about this trip was legal and properly handled and conducted.
"I had no idea that the lion I took was a known, local favorite, was collared and part of a study until the end of the hunt," he said. "I relied on the expertise of my local professional guides to ensure a legal hunt."
theguardian.com