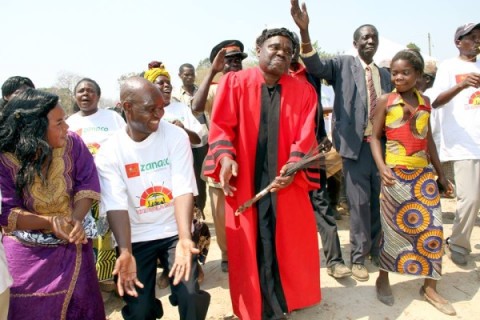 President Edgar Lungu says he will not discriminate or favour any tribe when appointing people to positions of authority.
Speaking at Solwezi airport today when he addressed people who welcomed him, President Lungu said he was shocked that some people have condemned him for appointing Richwell Siamunene as Defence Minister on account that he is Tonga.
The president said as long as PF remains in power, it will be a party for all Zambians.
He said Mr Siamunene deserved the appointment of Defence Minister by virtue of being Zambian.
President Lungu said he had confidence in the Sinazongwe parliamentarian because he has faithfully worked with the Patriotic Front since the time of late President Michael Sata.
The Head of State said all Zambians who work with the PF qualify for appointment.
And Mr Siamunene said he decided to work with President Lungu because his goal was to bring development to the country.
He said all Zambians should support President Lungu for the betterment of their lives.
Meanwhile, President Lungu expressed disappointment that some people are using money to buy their way to be adopted for the Solwezi West parliamentary seat.
He said he had information that some aspiring candidates were paying constituency and district officials so that they can be adopted on the party ticket.
Mr Lungu assured the people that the party will pick a candidate who people want and not leave it to party officials in constituency, district and provincial committees to pick a candidate as they may have been compromised.
President Lungu is in Solwezi enroute to Zambezi to officiate at tomorrow's Lunda Lubanza traditional ceremony of the Lunda of Senior Chief Ishindi.
He is accompanied by Mr Siamunene, Agriculture Minister Given Lubinda, Justice Minister Ngosa Simbyakula, State House Deputy Minister Mulenga Sata, Bwana Mkubwa Member of Parliament Emmanuel Chenda and PF deputy Secretary General Mumbi Phiri.
President Lungu was received by North-western province permanent secretary Amos Malupenga and the PF provincial leadership.