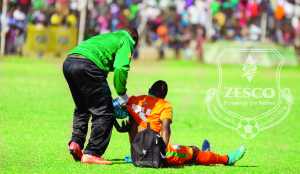 ZESCO United Football Club has called on the Football Association of Zambia (FAZ) to mete out stiff punishment on 'Mighty' Mufulira Wanderers for their fans' violent behaviour that led to the abandonment of the
MTN-FAZ Super League Week 19 fixture at Shinde Stadium.
But Wanderers secretary Samuel Kalunga said a replay would be ideal for both sides, especially that Zesco refused to continue with the match even after match commissioner Regina Sikazwe had ordered for the resumption of play.
This Week 19 fixture played at Shinde Stadium was called off on Saturday after incensed Wanderers fans rioted in protest of a Winston Kalengo goal that was meant to stand as they believed it was scored from an offside position.
Kitwe-based referee Gladys Lengwe was forced to abruptly stop the match for 10 minutes after home fans began throwing objects on the pitch forcing the officials and players to seek refuge in the dressing room.
Zesco secretary Justin Mumba said that the reigning league champions expected Football House to take serious measures to stamp out violence by handing out stiff punishments that could be a lesson to would-be offenders.
Mumba said in a statement yesterday that the violent behaviour exhibited by Wanderers' fans on Saturday was not in any way special to escape punishment.
"FAZ through the disciplinary committee has already set precedence when Kabwe Warriors fans started violence when they played Green Eagles in Kabwe and Zanaco at Sunset and when Nkana played Konkola Blades last year," Mumba said.
He said Zesco had since lodged in a complaint with Football House and was hopeful that the disciplinary committee would do justice to Wanderers and Power Dynamos.
Power fans equally rioted during a midweek evening clash kickoff after seeing their side go down 2-0 to Zesco at Arthur Davies Stadium in Kitwe on July 9.
Mumba said it was unfortunate that his counterpart at Wanderers, Kalunga could support his fans' behaviour as quoted on FAZ Facebook page.
"There is procedure to be followed to air grievances than resorting to violence. We would like to put it on record that we did not abandon the game. Mufulira Wanderer's supporters delayed the restart of the match because of their violent behaviour," he said.
However, Kalunga told fazfootball that there was no need for Zesco to have refused to continue with the match after Sikazwe had ordered for the resumption of play.
"The referee after assessing and discussing the situation with both sides allowed the match to continue but Zesco United declined. We do not know why they declined. The decision of the referee had 50-50 repercussions on both teams, so there was no need to back off," Kalunga said.
He, however, maintained that Kalengo's goal should not have stood as it was scored from an offside position.
"There was an infringement against our player which was ignored before the ball rolled to a player who was in an offside position. The referee allowed play to go on and what followed were protests from fans and players," he said.
Meanwhile, Zesco media and public relations officer Katebe Chengo said midfielder Mwape Mwelwa, who sustained a swollen back after being hit with a stone, was recovering well.
"Mwape is slowly getting better from the injury he sustained. The stone landed on his back as the fans rioted and we are happy that he is recovering," Chengo said.