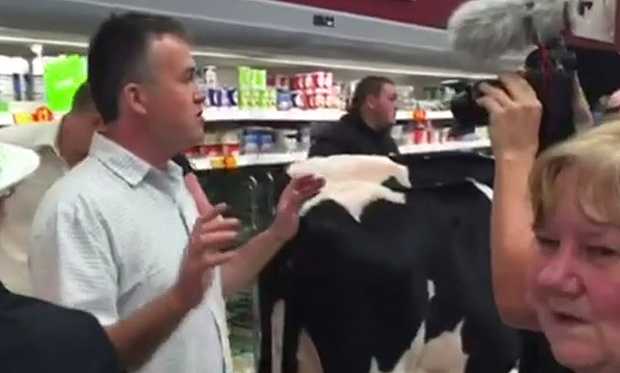 Two cows were herded through the aisles of a supermarket as part of a protest over how much dairy farmers are paid for the milk they produce.
Police were called to the Asda store in Stafford at around 12.30pm on Sunday after the cows were accompanied by around 70 protesters. In a video posted online of the protest, one of the campaigners said: "This milk should not be cheaper than a bottle of water."
The incident is the latest in a number of protests around the country by farmers who say the price they are paid for milk is unsustainable. Other actions have seen farmers clear supermarket shelves of milk, in what is being called the Milk Trolley Challenge.
Farmers say they need to be paid at least 30p a litre of milk to cover their costs, but they were paid an average 23.66p in June, according to British dairy organisation AHDB Dairy.
And Arla, Britain's biggest milk co-operative, has announced a price cut of 0.8p per litre – taking the standard litre price to 23.01p for its UK members.
A spokesman for Staffordshire police said: "Officers were in attendance to ensure that the protest remained peaceful and minimal disruption is caused to the general public." The police left the scene at 1.50pm.
http://www.theguardian.com/
Dairy farmers in Asda with a cow to protest against the cuts to payments farmers receive for milk. Photograph: BBC