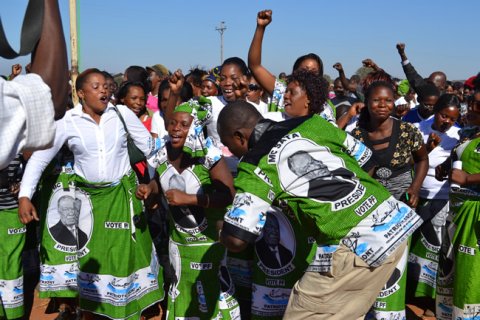 PF Lusaka Province Youth Chairman Kennedy Kamba says there is no sign to suggest that the ruling party is dying, as claimed by the Rainbow Party.
Mr. Kamba says the PF is still enjoying support throughout the country, and cited the opening of the Dangote Cement Plant on the Copperbelt as one indication that the ruling party is not dying, but on the right track.
He says PF youths are happy that the cement plant will create employment and lead to reduction in prices of cement on the market.
Mr. Kamba has told ZNBC news in an interview that he was in Kasama recently and that the people are in support of development agenda that President Edgar Lungu has for the people in that area.
He says the PF has just won other by elections in Petauke, Mulobezi and Malambo and will also scoop the elections that will he held in Kasama and Lubanseshi constituencies.
And Lusaka province Chairlady Margaret Mumba had advised the opposition UPND not to be excited because of Geoffrey Mwamba joining the party.
Ms. Mumba has also cautioned the Peoples' Party president Mike Mulongoti against issuing negative statements in the press.
ZNBC