At times we don't really think it is worth responding to the PF Media team headed by Sunday Chanda under the supervision of Secretary General Davies Chama and Deputy Mumbi Phiri that are daily damaging PF's reputation and image.
Perhaps the day they will engage in civilized debate that affects our people is when we shall be constructively engaging each other.
On UPND President Hakainde Hichilema's visit to UTH on Sunday evening, Chanda and his fellow PF leaders, that are currently enjoying high quality medical facilities abroad and don't know how local hospitals are, must first have checked and gotten his facts right.
The newly appointed UPND Secretary General, Hon Stephen Katuka, was involved in a road traffic accident on his way to the Muvi TV interview.
On being informed after the interview, Mr. Hichilema, Vice-president Geoffrey Bwalya Mwamba (GBM) and team went to visit the injured SG and his driver.
And naturally, while awaiting to ascertain the condition of SG Hon. Katuka and his driver, Mr. Hichilema and team went to greet other patients, including those that were sleeping on the floor due to lack of bed spaces at UTH.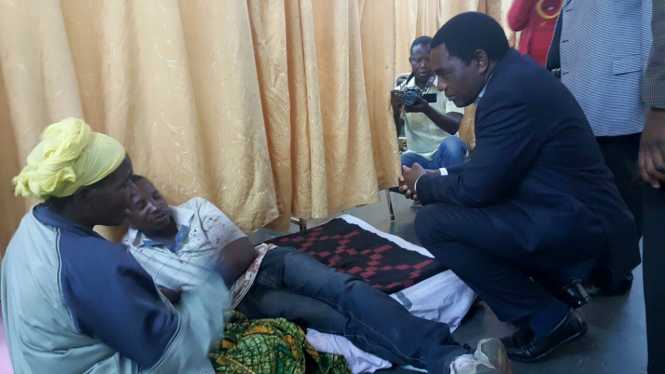 But in a typical and non-caring attitude by PF, instead of wishing our SG Hon. Katuka by sending a goodwill message and quick recovery, they clearly wish he never survived and have now resorted to the usual useless rantings of how much they have done to the healthcare delivery system in Zambia.
Did the PF leaders who clearly have no idea how people are suffering in those local clinics and hospitals surely expected Mr. Hichilema and team to abandon the human nature in him and shun those that may even have recognized him as a leader?
What kind of heartless individuals are the PF leaders who would rather rush to evacuate themselves for luxury specialized treatment and medical reviews abroad while the majority of the citizens are laying on UTH corridors on the floor?
Instead of addressing real issues, Sunday Chanda and PF leaders would rather be boasting about how much has been corruptly spent on scanners etc, in the health sector without addressing the critical question of whether these are accessible by people.
Sunday Chanda and PF leaders currently loitering all over the world, should tell us how real people's lives are being uplifted in the health policy initiative not money they have been stealing through over priced contracts such as fertilizer supply, oil procurement deals, and road contracts, among others.
Sunday Chanda should further tell us why patients at UTH and other hospitals are sleeping on the floor when the country has held the highest number of PF induced by-elections in the history of Zambia.
If the PF government was caring as he is trying to portray, they should have spent the money they have been borrowing is being allocated to expenditures like increasing patients bed spaces at UTH.
A few weeks ago, we challenged Sunday Chanda's surperviors such as Mumbi Phiri to report Mr. Hichilema to the ACC if they have any evidence of his illegal dealings during the MMD's privatization programme.
Todate nobody has taken Mr. Hichilema to any law-enforcement agencies but just keep yapping on a dead issue with a view to divert people's attention to the economic problems at hand.
Charles Kakoma
UPND Spokesperson