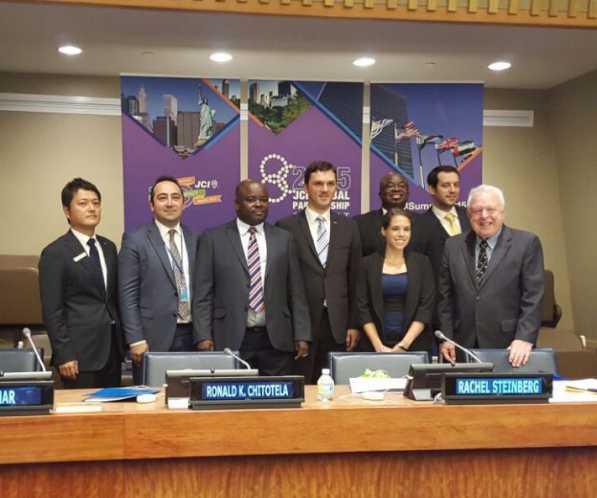 NEW YORK, Friday 31 July 2015 – Youth and Sport Deputy Minister Ronald Chitotela has urged youths to constantly collaborate with Governments, business entities and civil society to create employment and address many challenges facing young people.
Addressing the 2015 Junior Chamber International (JCI) Global Partnership summit under the theme: "collaborating for a sustainable future", at United Nations Headquarters on Thursday, Mr. Chitotela said about 45.5 percent of Zambians were youths and that Government had placed them at the core of sustainable development.
"Zambia has endeavoured to improve the status of our youths through: increasing investments in education particularly at secondary and tertiary level to improve on enrolments as well as quality training to impart development skills so that education becomes relevant to our young people of today; investing in infrastructural development including construction of sporting facilities that will keep the youths actively engaged in development process and deter them from engaging in vices that are detrimental to their lives," Mr. Chitotela said.
"Youth empowerment funds that seek to assist youths in all our 10 provinces in Zambia with seed capital to engage in income generating activities which contribute positively to national development; reviewing the national youth policy which has taken into account the new and emerging issues that affect our youths and provides measures that empower our youth through various initiatives and innovation; and harnessing demographic dividends that will ensure the ratio of working adults (including the youths) significantly increases."
He said the Government's initiatives could not be achieved in isolation.
"These efforts demand for participation and collaboration with all stakeholders including the private sector, cooperating partners and civil society. This is why we support the JCI initiative as it opens the doors to further champion the cause of the youth particularly in the areas of education and skills development, health and job creation," Mr. Chitotela said.
The Deputy Minister said the challenges facing youths were similar worldwide and required concerted efforts from all stakeholders to address them.
Mr Chitotela said youth seek quality education, quality health services and decent jobs.
He called on youths to take advantage of various youth empowerment programmes at their disposal that promote growth, prosperity, and an eco-friendly environment.
"Young people can work with their respective Governments, business leaders, and civil societies to promote youth employment and enterprise development such as replication of sustainable youth entrepreneurship initiatives, skills development, and other development practices that are environmentally friendly; they can collaborate with their civic leaders and promote patriotism in order to prevent internal conflicts; and can engage and promote good health habits for, and amongst themselves, to prevent premature deaths from both communicable and non communicable diseases," the Deputy Minister said.
"Sustainable future depends on young people working with Governments, civil society, and the global community in promoting peace and security which is an ingredient of development. Therefore, a summit of this magnitude must be able to support the engagement and empowerment of young people to be actively involved in conflict prevention, resolution, and peace building processes and initiatives."
Mr. Chitotela encouraged youths to network and share best practices, knowledge, skills and experiences that promote peace and prosperity.
The 2015 JCI Global Partnership Summit, organized by JCI in partnership with Office of the Secretary General's Special Envoy on Youth (OSGEY), took place from 28 from 31 July 2015 and discussions focused on the implementation of Sustainable Development Goals (SDGs).
JCI is a nonprofit organization of young active citizens aged between 18 and 40 years who are committed to creating positive impact in their communities.
Issued by:

CHIBAULA D. SILWAMBA (Mr.)
First Secretary for Press and Public Relations
Permanent Mission of the Republic of Zambia to the United Nations