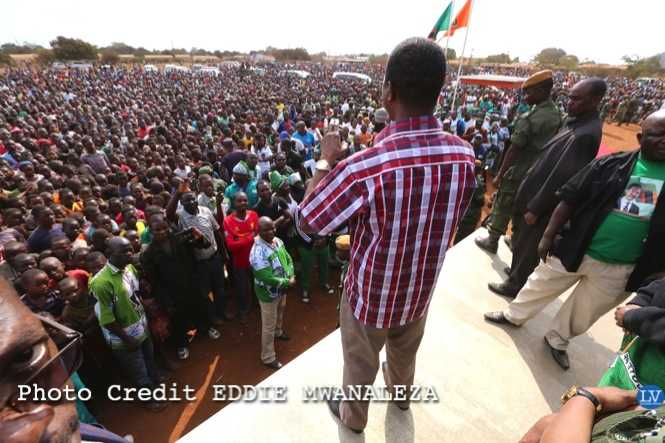 The Patriotic Front (PF) will bounce back into government after next year's elections because of its inclusiveness and development projects, President Lungu has said.
The President has also called on the Mulobezi parliamentary constituency electorate to vote for development through PF candidate Patricia Mulasikwanda in tomorrow's by-election.
Other candidates for the Mulobezi seat are Hastings Sililo of the United Party for National Development, Evans Mwanza of Green Party, and Collins Mbangu of the Alliance for Democracy and Development.
Speaking yesterday when he drummed up support for Ms Mulasikwanda at Sichili Secondary School, Mr Lungu said the PF will without doubt bounce back into power in 2016 based on its performance in the last four years.
"I can assure you that PF will be back in power in 2016 and beyond because we have embraced the spirit of inclusiveness left by our late president Sata," he said.
Mr Lungu said his government is operating within the original PF development agenda, contrary to reports suggesting otherwise.
He said his critics are ignorant of the party agenda.
"I'm still carrying the vision of our late president and the only philosophy I might have changed is by making Inonge Wina the Vice-President," Mr Lungu said.
The President also counselled Zambians to embrace the `One Zambia, one nation' philosophy and that political parties that will not do so have no future.
"Don't be cheated, no tribe in Zambia is superior to the other and as such, whoever needs to succeed should embrace the One Zambia, one nation motto," he said.
President Lungu said the people of Mulobezi should vote for Ms Mulasikwanda if they want development because the opposition don't want to work with Government on matters of public interest.
"It will be easy for me to work with my own than someone from the opposition. Yes, I have heard reports that this lady (Mulasikwanda) wronged you, but who among you is perfect?" he said.
Mr Lungu later called on Mulasikwanda to apologise to the people of Mulobezi for beating her mother in 2013.
And in her apology Ms Mulasikwanda said she was sorry for her action and asked the blood of Jesus to wash her clean.
The President was welcomed in Sichili by Western Province Minister Poniso Njeulu, permanent secretary Mwangala Liomba, indunas and PF provincial chairman Charles Mututwa and other senior party officials.
He addressed rallies in Bwina, Mulobezi and Machile.
At Bwina, President Lungu said Government will soon start working on the Simugoma Road which will link Western and North-Western provinces.
Mr Lungu said that the Road Development Agency (RDA) has assured him that the project will be done under phase two of the Link Zambia 8000 project.
President Lungu called on people of Mulobezi to remain peaceful as they cast their votes tomorrow.
"The people of Mulobezi are known to be peaceful because the unfortunate incident in which my secretary general Davies Chama was involved in was caused by outsiders," he said.
zambiadailymail