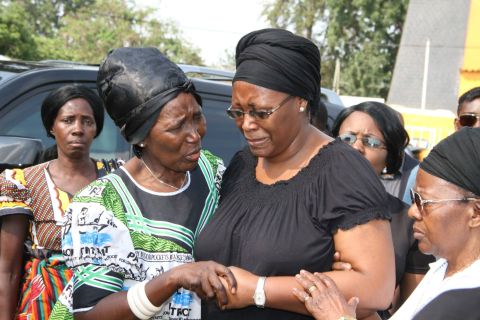 EVANGELICAL Youth International president Moses Lungu has appealed to former First Lady Christine Kaseba to strengthen the legacy of late President Sata by not politicising her issue of accommodation.
In an interview with the Daily Mail yesterday, Reverend Lungu said: "The former First Lady must not embarrass President Lungu by making him or the Government appear as though they are not caring."
Rev Lungu said Dr Kaseba must support the programmes her late husband started by rallying behind President Lungu.
The clergyman said President Lungu has taken a sincere position on the matter by letting Secretary to the Cabinet Roland Msiska respond to allegations that she was evicted from a lodge where Government has paid up to June 30.
"Dr Kaseba is still in Government hands. We believe there is a cartel that is holding her hostage. Let her redeem herself and defend the legacy of her late husband," he said.
Meanwhile, in Parliament yesterday, Government reiterated President Lungu's commitment to looking after former First Lady Christine Kaseba and has advised people against politicising her accommodation issue.
Acting leader of Government Business in the House Ngosa Simbyakula told Parliament that President Lungu made it clear that Government would take care of Dr Kaseba.
"President Lungu made it clear that his Government will look after our sister. We are constantly in touch with her," he said.
Dr Simbyakula, who is Minister of Justice, was responding to an urgent question by Mazabuka member of Parliament (MP) Gary Nkombo (UPND), who wanted to know whether Government was aware that Dr Kaseba had been evicted from the premises she had been occupying since she vacated State House.
Dr Simbyakula said the proprietor of 8 Reedbuck Lodge, where Dr Kaseba was accommodated, made a mistake – and has since apologised – by writing directly to her instead of Government, the tenant.
The House also heard that Government has resolved to build two permanent houses for incoming and outgoing Heads of State and their families.
On Thursday, Secretary to the Cabinet Roland Msiska said Dr Kaseba had turned down houses in Lusaka's upmarket suburbs contrary to reports that the State has failed to pay for her accommodation.
Dr Msiska has also said Government has paid Reedbuck Lodge in Lusaka's Kabulonga suburb a total of K2,246,547 for full board and lodging for Dr Kaseba and her family up to June 30, this year while awaiting permanent accommodation.
He said in a statement that Government, through Cabinet Office, has a standing arrangement with the proprietors of Reedbuck Lodge to house former Presidents or their spouses on temporary basis upon leaving State House.
"A number of properties were identified for the former First Lady to view but they were found to be either unsuitable or the owners were unwilling to enter into an agreement with Government," Dr Msiska said.
He said as a result of this, the lease agreement with Reedbuck Lodge was extended until suitable accommodation was found for Dr Kaseba.
Dr Msiska said a lot of effort has been made to secure accommodation for the former First Lady.
zambiadailymail