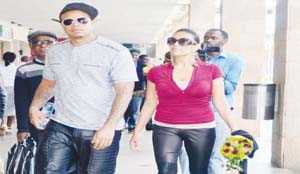 LOCAL fans have in the recent past been duped by bogus promoters, but Australian business executive Brendan Clark has allayed their fears by bringing American rap star Dr Dre's first born son Curtis Young to Zambia for the first time.
Curtis, accompanied by his gorgeous wife Vanessa, landed in Zambia last Sunday, courtesy of Brendan's Hit Records music label to perform at a charity concert slated for the Smugglers Inn in Lusaka on June 26, 2015.
Other artistes expected to perform on the night are Zambian exports to Australia Portia, who happens to be Brendan's wife, Zambia's most celebrated rapper C.R.I.$.I.$, Kamando and T Millz.
The Award-winning duo of Chef 187 and Willz 'Mr Nyopole' is expected to join Shyman Shaizo, among others, in entertaining revellers attending what is anticipated to be the biggest concert this year.
Curtis told the Times Weekend Entertainment that his coming to Zambia is for a noble cause and promised to live an indelible mark in the country.
"The fans should definitely expect greatness, it's gonna be a show they will never forget and we wanna keep doing this year after year, an annual event, to create awareness and this foundation is gonna be set for those that are less fortunate and that's what I am here to do," he said.
Brendan described the preparations leading to the concert as very hectic and was delighted to note that he has lived up to his pledge as a genuine promoter.
Brendan reiterated that he wants to put Zambia on the international spotlight through music by inviting Curtis and other bigger artistes in future to raise awareness on some of the problems the country is grappling with on a daily basis.
"The preparations have been huge, you can imagine, this is on a huge scale. The equipment that's required is very technical because we have Curtis Young here and one thing we believe in is to use local suppliers.
"We are a huge supporter of keeping things local so we have put in a lot of effort into finding people locally that we can work with so that we support the local economy," he said.
Brendan said all proceeds from the concert would be channeled to charitable activities.
Brendan said in an interview that he has pumped in more than US $40,000 to host the concert, which will be restricted to 1, 000 revelers.
Curtis, Vanessa, Brendan, Portia and Kamando on Monday visited Manda Hill where they posed for photos with fans before proceeding to Nandos to have lunch where they were joined by Willz.
They went to the University Teaching Hospital thereafter.
ZNBC