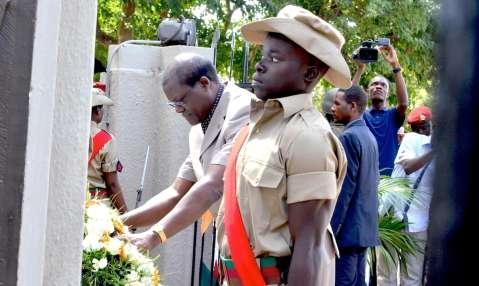 Two major opposition political parties in Parliament say they will only support constitution amendments which are in the interest of the Zambian people.
UPND Parliamentary Chief Whip Garry Nkombo has told Qfm News in an interview what the people of Zambia want is what UPND MPs will settle for.
Mr. Nkombo who is also Mazabuka Central MP has explained that for the fact that UPND is a party propelled by ethics, what comes first is the interest and aspirations of the people its MPs represent.
He says this entails that if the constitution amendments the ruling party wants to table are only for its conveniences, such amendments will be rejected.
Mr. Nkombo has disclosed that to this effect they will meet the Minister of Justice Ngosa Simbyakula on Wednesday 24th June over the earmarked constitution amendments.
He says his party wants to know what government intends to table before it could decide to either support or reject the amendments to be proposed in the House.
And MMD National Secretary Mwansa Mbulakulima has told Qfm News in a separate interview that his party holds the same position as the UPND with regards to constitution amendments.
Mr. Mbulakulima states that MMD MPs intend support progressive constitution amendments.
He says it is for this reason that the former ruling party is today, Tuesday 23rd June scheduled to hold a caucus meeting of all its Members of Parliament and members of its National Executive Committee (NEC) to discuss national issues.
Mr. Mbulakulima says the caucus meeting to be held at the party's Secretariat at 15:00hrs will adopt the party's position on all national issues.
He says the idea is to avoid party members giving uncoordinated individualist positions on national issues.