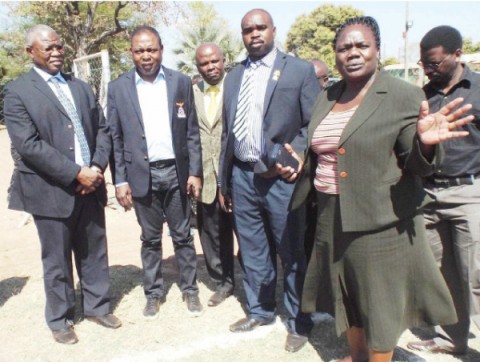 Transparency International Zambia (TIZ) has given the Ministry of Youth and Sport Permanent Secretary Agness Musunga a 72 hours notice to take appropriate action on well documented evidence of public funds wastages taking place at the National Youth Development Council (NYDC).
TIZ Executive Director Goodwell Lungu has told QFM News in a statement that the ultimatum is contained in a letter dated 22nd June 2015 received by her office on 23rdJune 2015.
Mr. Lungu says it is quite sure that the Permanent Secretary is fully aware of her full roles and responsibilities as stipulated in the Public Finance Act of 2004 and that his organization has informed her that her role is to protect public resources from abuse and wastages.
He says TIZ in the letter confirms that in August 2014, it wrote to the PS and held a meeting with her and her Directors at which TIZ confirmed that there was public funds misuse at the NYDC.
He discloses that the PS confirmed to TIZ that the Auditor General's office was undertaking an audit and the PS would give TIZ excepts of the report within a week.
Mr. Lungu says his organization is aware that on 21st November 2014, the Auditor General's office submitted the audit findings at NYDC to the PS which confirmed the contents of the earlier TIZ letter dated 18th August 2014.
He says TIZ has informed the PS that among the Auditor Generals findings and TIZ's earlier reports that the NYDC was involved in double payments to its Chairperson amounting to one hundred and fifty three thousand one hundred and thirty four kwacha forty one ngwee (K153, 134.41) which the Auditor General's Office report to her have clearly stated that this was wasteful expenditure.
He furthermore adds that the report clearly shows that the total budget for the financial year ending December 31st 2014 for Board meetings was K154, 710 and that the report notes that the whole budget was applied towards the payment of the council Chairman's allowances totaling K95, 384 daily subsistence allowances and K57, 750 sitting allowances.
The TIZ Executive Director says a total of K294, 596 representing 30% of the funds released to NYDC were applied on the Council Chairman's expenses against a Board Meetings budget of K154, 710.
He says in view of the above, TIZ has given the 72 hours ultimatum letter to the PS to take appropriate action as controlling officer to prevent further public funds wastages at NYDC.
QFM NEWS