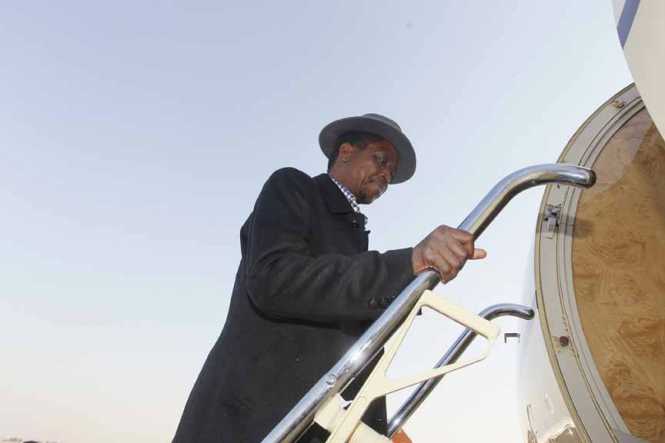 President Edgar Lungu is tomorrow expected in Mozambique to attend that country's 40th independence anniversary celebrations which take place on 25th June, 2015.
In a press briefing held this afternoon at the Zambian mission in Maputo, Zambia's High Commissioner to Mozambique Japhen Mwakalombe told journalists that President Lungu's attendance of that country's independence anniversary celebrations was important as it signifies the sound relations that exist between Zambia and Mozambique.
Mr. Mwakalombe said President Lungu will be visiting Mozambique for the first time since assuming office in January this year.
He expressed optimism that President Lungu's visit will further enhance trade between the two countries.
Mr. Mwakalombe further said the President will on tomorrow, 24 June 2015 attend an evening gala which will be held at the Cultural Centre of the University of Eduardo Mondlane in Maputo ahead of the independence celebrations.
On June 25, President Lungu is expected to lay wreaths at the Mozambique Heroes Stadium in respect of that country's late former first leader of the Front for the Liberation of
Mozambique, Samora Machel and its first leader under the Portuguese government Eduardo Mondlane.
On the same day, the President will proceed to Machava stadium, the venue for the independence celebrations.
Mr. Mwakalombe added that President Lungu will then proceed to Ponta Vermelha palace, the State House of Mozambique, for a luncheon which will be hosted by his counterpart, Filipe Nyusi.
The President's entourage to Mozambique will include Zambia's first president Kenneth Kaunda.
Others will be Foreign Affairs Minister Harry Kalaba, Special Assistant to the President for Political Affairs Kaizer Zulu and Special Assistant for Press and Public Relations Amos Chanda.
Mr. Mwakalombe has described Dr. Kaunda's participation in Mozambique's 40 independence anniversary celebrations as a demonstration of Zambia's sacrifice towards that country's fight for independence.
"During the inauguration of President Filipe Nyusi early this year, President Lungu assigned Dr. Kaunda as his representative. Thegovernment of Mozambique acknowledged Zambia's representation," he said.
And on the sidelines of the independence celebrations, Mr. Mwakalombe said the ZECSO Acting Managing Director Victor Mundende is expected to hold discussions on how to increase electricity trade within the SADC region.
A former Portuguese colony, Mozambique gained independence on 25 June, 1975 with the late Samora Machel as its first President.
The late Machel died in a plane crash as he was returning from a Frontline States meeting that was held in Lusaka, Zambia in 1986.
Joaquim Chissano and Armando Emilio Guebuza are Mozambique's former leaders.
Filipe Nyusi, Mozambique's current President, assumed office in January this year after obtaining 57.3 per cent vote win in the October 2014 presidential and general elections.
With 30 political parties, the Front for the Liberation of Mozambique (FRELIMO) is the major party which has been in power since that country's independence in 1975.