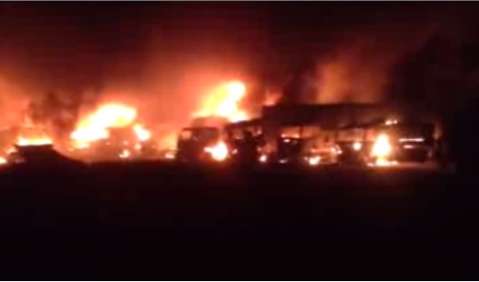 A Five-year-old-girl of Mbanyutu village in Luampa District has been burnt to ashes while two others aged 9 and 15 years are admitted to Luampa Mission Hospital.
ZANIS in Luampa reports that the incident happened when the house in which the three children from the same family were sleeping caught fire around 23:00 hours last Friday.
The toddler has been identified as Nawa Mukokwa, while the other two who are nursing serous burns are Beatrice Mukokwa aged nine (9) and Shila Mukowa who is 15 years old.
Luampa Mission Hospital Executive Director Sanki Chihinga confirmed the incidence to ZANIS today.
Mr Chinhinga said the accident happened last week on Friday around 23:00 hours and that the fire was started by a burning candle.
"At the time the incident happened the parents were not home, the father Liike Mukokwa a teacher at Mbanyutu Primary School had gone for a church programme while the mother went to visit her relatives," he said.
He said the 9-year-old Beatrice Mukokwa is in a critical condition while the teenager ,Shila Mukokwa is responding well to treatment and may be discharged soon from hospital.
Meanwhile, Luampa District Commissioner Mubita Siyamana has donated blankets and other assorted items to the family of the three children.
Representing the District Commissioner, Luampa District Administrative Officer Ernest Mwanangombe said government is saddened by the development.
Mr Mwanangombe said government has provided tents for the family for shelter and will continue to help in any way possible.
And Mbanyutu Deputy Head Teacher Joyce Kaluwe thanked the District Commissioner for the donation.
Ms Kaluwe said other than the loss of a child the family has also lost property amounting to more than K80, 000.00
Meanwhile, the remains of child have been put to rest in the village.