Luanshya District Commissioner, Harold Mbaulu says over 15,000 people in Luanshya, representing nine per cent of the district's population, was infected with Lymphatic Filariasis (LF) commonly known as elephantiasis.
Mr Mbaulu says this was according to the recently conducted national survey by the Ministry of Community Developmen,t Mother and Child Health.
He was speaking in Luanshya today when he launched the eight-day Lymphatic Filariasis (LF) (commonly known as elephantiasis) mass drug administration at Mikomfwa health centre.
Mr Mbaulu noted that though it was currently assumed that the rate of infection had decreased, there were still existing worm infections in many peri-urban areas of the district.
He stated that government was working at eradicating the pandemic that the mass drug administration would help in the elimination and prevention of present and future occurrences of the disease.
He further observed that most people who were infected with the Lymphatic Filariasis worm may not know it as the disease takes over 20 years to manifest hence the need for timely intervention.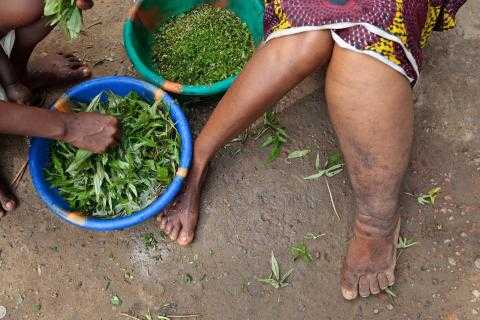 And Luanshya District Medical Officer, Peter Mulenga, said the program was targeted at administering the drug to 157,000 people out of the 172,170 district population.
Dr Mulenga said the intervention was focused on all age groups apart from children under the age of two years, pregnant women and the chronically ill.
He implored the Luanshya community to cooperate and support the medical personnel in the undertaking as it was targeted at helping the community.
Luanshya was among the first 59 districts in the country, identified in the first phase of the program which required people to be treated from with Lymphatic Filariasis infection.
Lymphatic Filariasis infection is an inflammation generally found in the legs, causing swelling and can also affect in extremities, breasts, arms and genitals which can manifest in both men and women.
Elephantiasis – Photo Credit – The Post