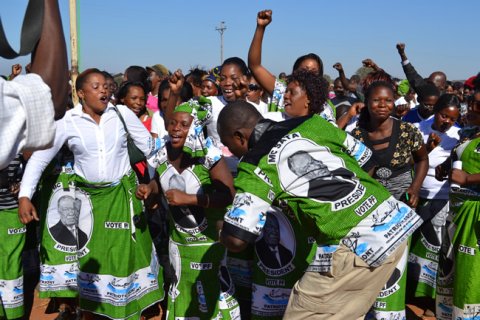 The Patriotic Front has continued to attract new members in different parts of the country.
Vice President Inonge Wina was recently in Mongu to mobilise the masses to rally behind the PF.
Meanwhile the Vice president says unscrupulous persons are going round collecting money from people using the name of President Edgar Lungu.
The unscrupulous persons are also using the name of the Vice President and the ruling party.
State House and the Vice President have distanced themselves from the schemes and warned of stern action against the culprits.
Ms. Wina has since instructed the police and other law enforcement officers to apprehend the fraudsters.
This is according to a statement released to ZNBC by Senior Private Secretary in the office of the Vice President, Ambassador Sheila Siwela.
And the Vice President is saddened by the rising cases of ritual killings and has since instructed Law enforcement officer to thoroughly investigate the killings.
Meanwhile, the ruling PF says the Rainbow Party's Socialist agenda is a failed project that will not excite Zambians.
PF Media and Publicity Committee Vice Chairperson, Sunday Chanda says this is because socialism has been experimented before and failed.
In a statement to ZNBC News in Lusaka, Mr. Chanda says Zambians should understand that Rainbow Party is playing ideological games .
He says PF is committed to pushing back the frontiers of poverty and creating a better life for all.
Mr. Chanda was reacting to Rainbow Party Secretary General Wynter Kabimba's announcement that his new party will pursue socialism.
ZNBC