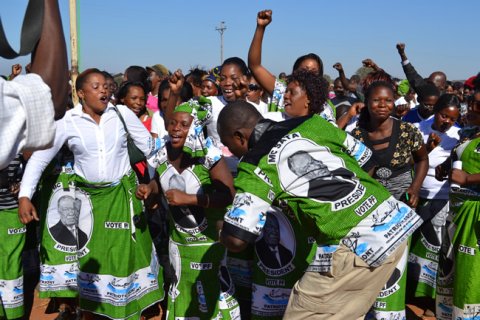 About 120 members from various opposition parties have defected to the ruling Patriotic Front (PF) in Mongu District of the Western Province.
ZANIS reports that the Vice President Inonge Wina received the defectors at a rally she addressed at Community Development Hall in Mongu yesterday.
Ms. Wina thanked the defectors for joining the PF stating that the new members were very much welcome as this was a plus for strengthening the roots of the party.
Ms. Wina disclosed that the opposition were joining the PF because of the massive infrastructure development that was currently taking place in the country sighting road construction works, construction of health posts and schools as well as rural electrification among others.
She urged the new members to be free in the PF and encouraged them to participate in even contesting for any positions at any level in the party.
And among those who defected were former Western Province United Party for Nation Development (UPND) Chairman Joseph Mulyata, Movement for Multi Party Development (MMD) Provincial Chairman Katongo Kameya with her Provincial Chairlady Ethel Wamunyima.
And speaking on behalf of the defectors, Mr Mulyata thanked the Vice President for welcoming and supporting them in joining the PF saying that they did not join the party to bring confusion but to work together and attract more members.
Mr. Malyata further said they had joined the PF because of its good works adding that President Edgar Chagwa Lungu and the Vice President Inonge Wina were good people.