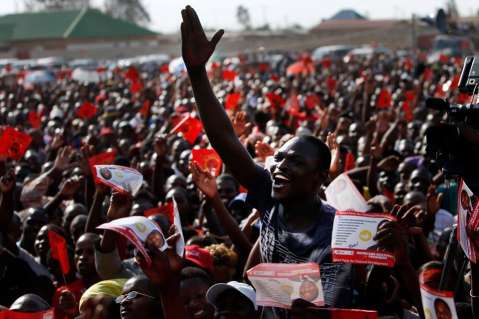 The ruling Patriotic Front (PF) in Lusaka have condemned the violence by suspected opposition UPND cadres on Secretary General Davies Chama and his convoy in Mulobezi district.
PF Acting Media Director Sunday Chanda accused the UPND of using the infamous "Mapatizya" formular which was allegedly used in Choma district in Southern province.
Speaking at the same occasion, PF Strategy, Media and Publicity member Mulenga Fube accused Civil Society Organization (CSOs) of making acrimonious statements on President Edgar Lungu and the entire PF leaders to defend their donors.
Mr. Fube said the CSOs chief executive officers were using the constitution to fight government.
He advised the CSOs that Article 296 over land is not the only issue but that there are other contentious matters in the draft constitution which government was addressing.
Human Rights Defender and Governance Expert Ngande Mwanajiti regretted that people were violating the public order act using the draft constitution.
Mr. Mwanajiti commended Police in Mulobezi for their quick intervention to quell the situation in Mulobezi yesterday.
Meanwhile, Mr Chanda said the PF is a non-violent political party and condemned the Mapatizya formula as belonging to the stone age period.
Mr. Chanda, who was flanked by PF Strategy, Media and Publicity members Mulenga Fube and Human Rights Defender and Governance Expert Ngande Mwanajiti was speaking at a press briefing in Lusaka today.
He claimed that the PF is standing on fertile grounds in the three parliamentary by-elections in Mulobezi, Petauke Central and Malambo seats slated for June 30, 2015.
He commended Mulobezi Police for detaining former UPND Member of Parliament and candidate, Hastings Sililo for allegedly masterminding the ambush against the PF Secretary General and causing violence that occurred last evening.
Mr. Sililo's official vehicle registration number ALD 9469 was found with axes and pangas and his Toyota Hilux D4D has since been impounded.
Yesterday, a convoy of vehicles belonging to the UPND descended on the motorcade of PF Secretary General Davies Chama who had gone to Mulobezi on a campaign tour to drum up support for the Party candidate, Patricia Mulasikwanda in the June 30 parliamentary by-election.
The Supreme Court nullified the Mulobezi seat due to Electoral corruption and malpractices.
The Electoral Commission of Zambia (ECZ) advised political parties to refrain from importing cadres to areas of by-elections to discourage incidences of violence and clashes.