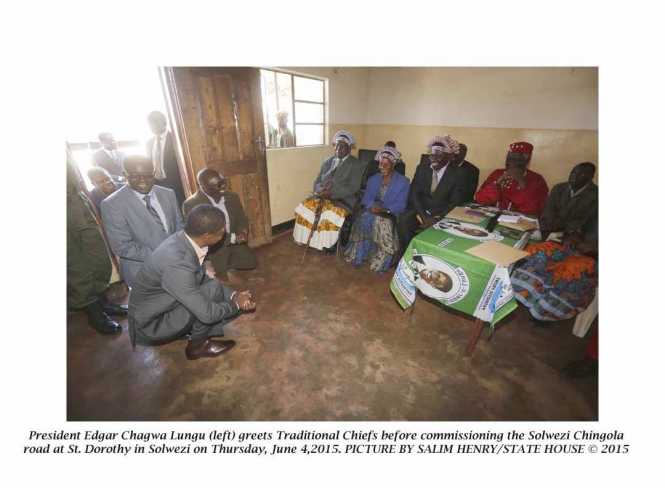 PRESIDENT Lungu has assured that he will visit other parts of the country and spend as much time as possible like he has in North-Western Province.
And President Lungu says he plans to upgrade Solwezi town into a city.
President Lungu said he has received reports that residents of Northern and Copperbelt provinces are worried that people of North-Western Province have "stolen" him from them despite having immensely supported him in the January 20 presidential election.
"I want to assure them that I will visit every part of this country and spend as much time as possible in all the provinces," President Lungu said.
The President was speaking here yesterday shortly after being conferred with the prestigious honour of the free man of the municipality of Solwezi.
President Lungu said his administration attaches great importance to the development of the entire country and that Zambia will remain a unitary state and North-Western Province is not an exception.
He said his administration remains a pro-poor Government that attaches great emphasis to poverty alleviation and development of the entire nation without segregation on the basis of race, creed, tribe or any other parameters of discrimination.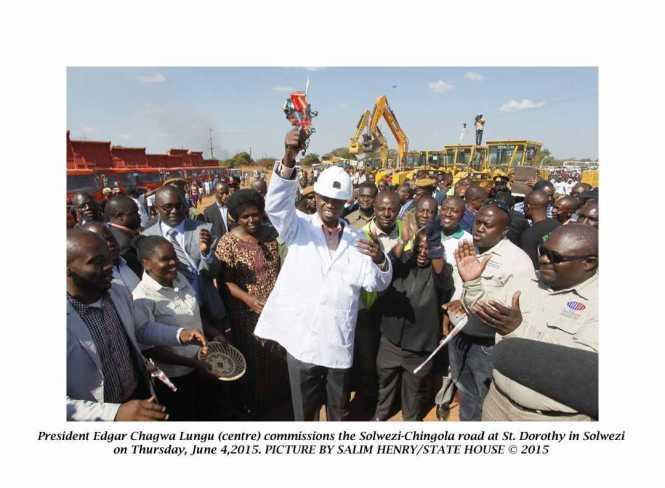 President Lungu said to achieve this, local authorities must play a pivotal role in contributing to the development of the country through effective and sustainable service delivery to the people.
The President said his Government attaches great importance to local governance and is determined to implement the decentralisation programme to meet the needs and aspirations of the people.
President Lungu also commended Solwezi Municipal Council for the efforts it is making to transform the town.
He cited the construction of a modern bus station, market, roads infrastructure and the new Solwezi Civic Centre as some of the projects the local authority is undertaking.
"Your worship the mayor of Solwezi, I must say that your efforts are particularly commendable, especially that Solwezi is one of the towns earmarked for upgrading to city status," he said.
President Lungu directed the provincial administration to work closely with the municipality and all stakeholders to conclude the Solwezi integrated development plan and to take necessary measures to ensure that all benchmarks are met to upgrade the town.
President Lungu said he is humbled and will forever be grateful to Solwezi Municipal Council for conferring him with the status of free man of the town.
And Solwezi mayor Ezekiel Mulonga said the local authority decided to honour President Lungu because of his visionary leadership and commitment to developing Solwezi and the entire North-Western Province.
And President Lungu has assured the people in Mushindamo, which is located 120kms from Solwezi town and near the border with the Democratic Republic of Congo (DRC) that Government will ensure the Solwezi-Kipushi road is rehabilitated.
President Lungu said he is committed to removing the girl-child from the hook of oppression and ensure that girls are recognised and supported.
He said this when he visited Mushindamo Girls Technical Secondary School, which has no electricity and water supply.
The President said his appointment of Vice-President Inonge Wina is not by chance but to promote women's affairs.
"I hope that this appointment will inspire a lot of women in Zambia and in our region to work even hard," he said.
The President appealed to traditional leaders to ensure girl children are protected from early marriage and other abuses.
"So, we will support the school so that the environment suits the girl-child. I will secure computers and a truck to be used at school so as to reduce challenges faced by girls," the President said.
Julienne Mulenga, a grade 12 pupil, commended President Lungu for promising to connect Mushindamo Girls Technical Secondary School to the national electricity grid.
She said learning has been a challenge without power.
BUTTYSON KANDIMBA, STEVEN MVULA & KELVIN CHONGO, Solwezi
Zambia Daily Mail