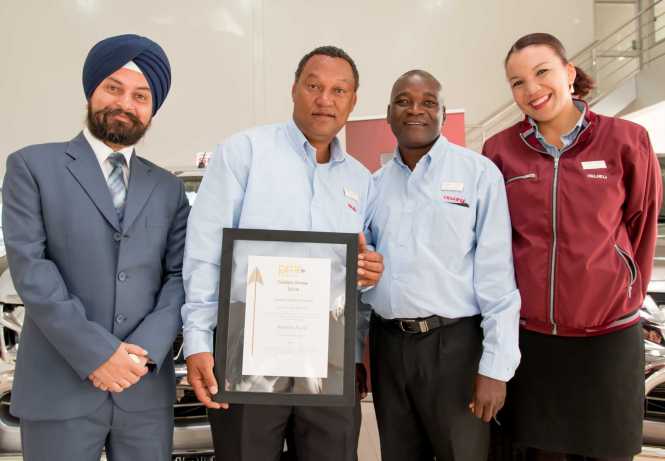 Dedicated staff put Action Auto on top
03 June 2015 – Action Auto, Management and staff in Zambia recently scooped the coveted Performance Management Review (PMR) Golden Arrow Award for excellence in industry.
The team walked off with the Golden Arrow Award in the Leaders and Achievers in Motor Vehicle Dealerships category.
The coveted Diamond, Gold, Silver and Bronze awards is the culmination of a research process whereby companies and institutions are rated based on the respondents perceptions, with a strong focus on evaluating and measuring customer service and customer satisfaction.
The awards are also an indicator of a company and institutions competencies. The purpose of the awards is to create a global and unique marketing tool for the company, enhance excellence and to set a benchmark in industry.
Action Auto Dealer Principal, Michael Bentley said winning the award will serve as a motivator to continue to strive towards service excellence.
"The Action Auto Team is committed to exceed customer expectations, paving the way for customer enthusiasm and loyalty. The award acknowledges and recognizes that we are doing something right."
Bentley said this is the first time they have won this award and aim on working hard to achieve the Diamond Arrow Award in future.
Brian Olson, Vice President of Vehicle Sales Service and Marketing, GM Sub-Saharan Africa said "one of our values at General Motors is to earn customers for life by providing customers with an outstanding customer and ownership experience."
"We are proud to know that the Action Auto team is putting the customer at the centre of everything they do and in that are also being recognized for it" added Olson.
Action Auto, General Motors sole authorized dealer in Zambia, comprises of a team of 58 and 15 staff members in Lusaka and Kitwe, a fully equipped modern workshop together with a team of qualified technicians that guarantee efficient and professional services.
Since 1997, the company has been providing quality vehicles and genuine spare parts for Chevrolet, Opel and Isuzu.