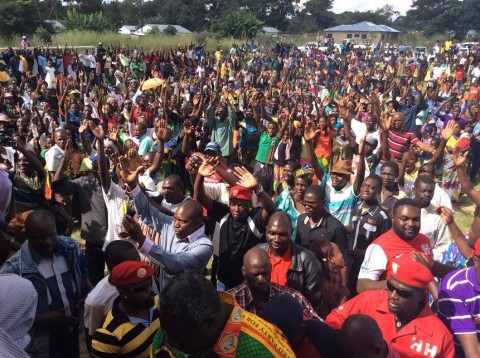 About 350 UPND members in Mungwi have defected to the ruling Patriotic Front.
The defectors also included three MMD members and one UNIP member.
They defection took place on Friday at PF rally held at Mungwi's Presidential ground.
Malole MP, Christopher Yaluma lead PF members in welcoming the defectors.
UPND's Malole Constituency Chairman, Paul Bwalya said he abandoned the party because of segregation.
And UPND's Mungwi district Vice Chairman, Robert Mfune he defected because of lack of unity in the UPND.
Meanwhile, Bishop Ed Chomba, a PF supporter questioned why some rich political party leaders cannot use their 'millions of dollars' to help the poor.
Bishop Chomba said instead the rich political leader choose to 'sit' on their millions of dollars instead of helping the poor.
Mr. Yaluma who is also Mines Minister thanked people in his for voting President Lungu in January this year.
Mr Yaluma however urged people in Malole to register for National Registration Cards and voters cards.
He said this will be crucial for the Presidential and general election in 2016.
Meanwhile, over 1 hundred UPND members in Mansa District, Luapula Province, have defected to the Patriotic Front – PF.
UPND District Chairman Peter Kaushi led the defectors who include UPND Bahati Constituency Chairman.
And Bahati Member of Parliament Harry Kalaba has praised the UPND defectors for joining the PF.
Mr. Kalaba who is also Foreign Affairs Minister said the PF is the only viable party which has shown commitment to transforming the nation.
And Mr.Kaushi says his followers are happy with the developmental efforts by the PF.
Meanwhile, government says the creation of new districts is not a political game.
Local Government Minister John Phiri says the move is meant to take development closer to the people.
Dr Phiri said this during the handed over of 7-thousand 582 hectares of land for Shibuyunji township in Shibuyunji District, by Chief Shakumbila.
He said the new districts will reduce the dependence of rural areas on urban districts and rural-urban migration.
He told Shibuyunji residents that the PF has shown commitment towards addressing their problems.
At the same function, Chief Shakumbila appealed to government to assist the people that will be displaced in the process of infrastructure development.
znbc