4 years old Lusaka resident Bwalya Mwamba welcoming Cassandra Almeida while looking on is Superior Managing Director Peter Cottan upon arrival at Kenneth Kaunda International Ariport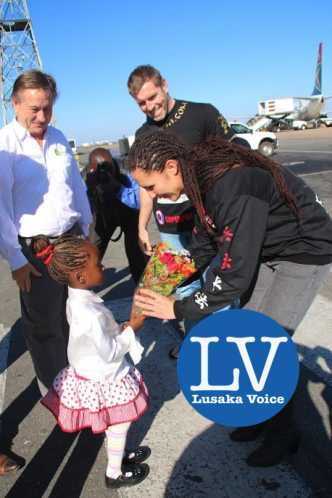 All is set for this Friday's World International Boxing Association (WIBA) and World International Boxing Federation (WIBF) welterweight unification title fight between Zambia's Esther Phiri and South Africa's Sandra Almeida.
Fundraising Committee Chairperson Peter Cottan disclosed that the committee has managed to raise the required K620, 000 to stage the unification title fight.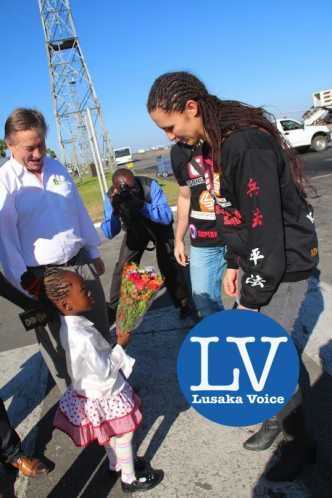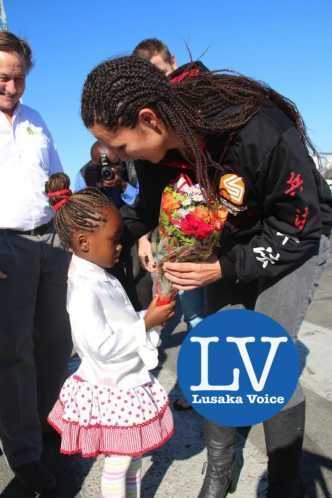 Speaking at a press briefing in Lusaka this morning, Cottan thanked all the companies and individuals for contributing towards Esther's fight.
And Esther Phiri expressed confident of victory and disclosed that she will unleash a new punch called "Power punch" against her opponent.
And Esther's trainer Anthony Mwamba declared the boxer ready for this Friday's bout which will take place at the New Government Complex in Lusaka.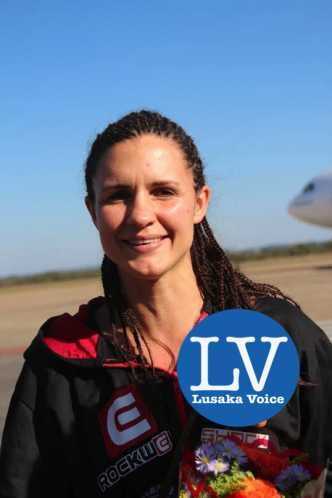 Mwamba said apart from the Esther and Almeida fight, there will also be seven other supporting bouts on the day.
Meanwhile, Esther's opponent in this Friday's title bout Sandra Almeida is expected to arrive in the country from South Africa today.
Almeida will be accommodated at the BEST Western Plus Lusaka Grand Hotel where Esther has set up her camp.