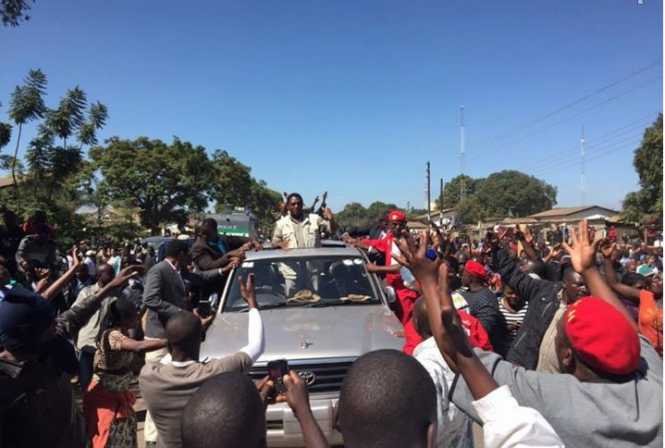 Opposition United Party for National Development (UPND) leader Hakainde Hichilema  was today summoned and interrogated at Kabwata Police Station for alleged breach of the Public Order Act ( POA).
Speaking to Journalists shortly after being summoned, the opposition leader speaking through his Lawyer Jack Mwiimbu said police and the party officials have resolved to apply the POA at all times.
Mr. Mwiimbu, who is also UPND Kalomo Central Member of Parliament (MP), said there was no charge in what-so-ever for Mr. Hichilema.
"We as a party and the Police had cordial relations and we've resolved the matter and in future we shall apply the POA at all times in accordance with the law. There is no charge in what-so-ever," Mr. Mwiimbu said.
The opposition leader was accompanied at Kabwata Police station by senior party National management Committee, MPs and several UPND sympathizers who offered solidarity to him.
Placards  carrying  cadres took to the street chanting slogans denouncing government amid peaceful  environment.
Heavy police presence  characterized  the scenario.
Mr. Hichilema  was recently summoned at Woodlands Police Station several times and was slapped on charges of  at conduct likely to breach peace among other charges.
Meanwhile, Lusaka Province Police Chief Charity Katanga appealed to the politicians in Zambia to adhere to the POA and desist from 'breaching' it.
She said Police requires to be informed at all times when-ever their leader moves around as well as conducting political rallies.
Ms. Katanga could however, not confirm the arrest of two UPND cadres who have been locked up at Kabwata Police Station for known charges.