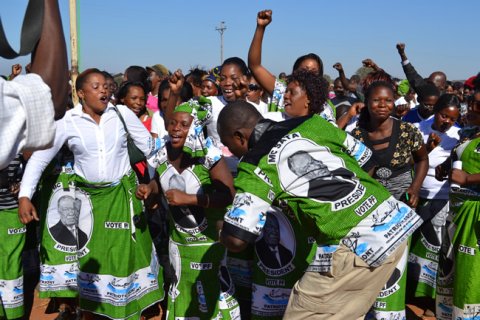 Alliance for Democracy and Development (ADD) district youth chairman Gift Mwendabai along with 75 members have defected to the Patriotic Front (PF).
And Minister of Education Science Vocational Training and Early Education Michael Kaingu has called on Mulobezi residents to vote for the PF in the June 20 parliamentary by-elections because President Lungu loves them and they should also show him love by voting for the PF candidate.
Mr Mwendabai said in Mulobezi on Friday that he and 75 others have decided to join the ruling party because of the good work it is doing for the country.
"We have seen the works of the PF and are happy with what we have seen hence the defections," he said.
He said it is important for political parties to work together for the common good just like what the MMD and PF are doing.
Dr Kaingu said President Lungu has shown love to the people of Western province by appointing someone from their area as a vice-president.
He urged the people of Mulobezi to vote for the PF so that development can be delivered to their door steps.
Dr Kaingu said people of Western Province have been known for generally supporting the opposition and it's high time this trend was changed.
He said Government is willing to develop the district but the people would need direct representation through a member of Parliament.
And the PF Mulobezi candidate Patricia Mulasikwanda appealed to the electorate to vote for her.
"Please vote for me so that I can be the bridge between you and Government," she said.
She said it's high time that the people of Western Province were associated with the ruling party.
Ms Mulasikwanda said Government is keen on developing the whole country.
"We have even been given more districts so that we can easily develop the province," she said.
Ms Mulasikwanda said that being a person who hails from Mulobezi, she is best placed to represent the people in Parliament.
"I have always had a good rapport with the Government and that is why the minister is even here supporting me," Ms Mulasikwanda said.
ZambiaDailyMail