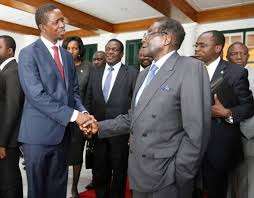 Zambian President Edgar Lungu on Thursday almost revealed his long time secret relations with Zimbabwe's nonagenarian leader President Robert Mugabe when he said Zimbabwe has always been at the core of his heart.
Speaking during the official opening of the Zimbabwe International Trade Fair (ZITF) which kicked off on Tuesday, Lungu almost confirmed what political analysts have always said about his relationship with Africa's long serving president.
Two months before the Zambian elections held in January this year following the death of former president Michael Sata, Lungu visited Mugabe apparently to consult him ahead of the election in what observers said was a visit to seek advice on how to "rig" elections.
He was to win by a 48,3 percent majority after an election race marred by delays.
As if to pay tribute to his "boss", Lungu made a surprise early visit to see Mugabe in his first-ever State foreign trip as president of Zambia.
"It is for this reason that Zimbabwe occupies a special space in my heart of hearts, this is the first country that I visited after assuming office this year," Lungu said.
"I will not talk about the nocturnal visits that I used to do before I was elected as president," he said.
In another appalling development, Mugabe who is currently the Sadc and African Union chairman flew into Zambia well before the results were out to attend the inauguration and was denounced by opposition leader Hakainde Hichilema of the United Party for National Development supporters who staged a demonstration chanting "Mugabe must go."
As if that was not enough, Mugabe further invited Lungu to officiate at this year's premier business showcase despite the fact that two years ago the late Sata was the guest of honour at the same event.
In his address, Lungu spoke at length not only about the two countries' desire to strengthen diplomatic ties but their long history dating back to the pre-colonial era.
As a result, he described the two neighbouring countries as "Siamese twins".
"The investment relations have strengthened the ties between the two countries over the years. In 2010 and 2014, exports into Zimbabwe exceeded US$1,6 billion while imports from Zimbabwe into Zambia during the same period were about $403 billion.
He, however, hailed the establishment of the one-stop border post at Chirundu which he said was the first of its kind in Africa, a clear sign of the continued bilateral relations.
He said the ZITF was a platform for organisations to interact, create business opportunities, partnerships and promotion of trade and investment in Zimbabwe and the region.
"We need to learn from our neighbours irrespective of one's ethnicity or country of origin and indeed we need to perfect the art of whatever we do in order to seize the various business opportunities and accelerate economic growth in the spirit of Ubuntu."
Lungu toured several ZITF stands with Mugabe who visibly appeared struggling to walk, albeit under heavy security around him as they moved from one hall to another and from one stand to another.
Mugabe was accompanied by his wife Grace. Daily News